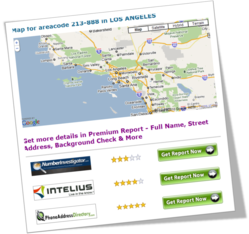 FreePhoneNumberFinder.com is a reverse phone number finder that combines the advantages of a reliable, complex free phone finder with those of a relevant search engine.
Los Angeles, CA (PRWEB) September 02, 2011
FreePhoneNumberFinder.com, a leading online provider of reverse phone lookup services, cautions consumers of a recent scam that is surfacing in various cities across the US. The scam involves fliers placed in common gathering venues, like churches and community centers. The fliers, often times handwritten, advertise tax services that help consumers get more money back on their tax returns. Typically these fliers include a first name and local phone number, but very little additional information. Use area codes directory and reverse phone from FreePhoneNumberFinder.com to know more about the phone number on the flier. These fliers may seem harmless, but consumers who pursue these services and contact the number on the flier could find their bank accounts and identities in jeopardy.
According to a report from NOLA.com, here's how the scam works: An unwary taxpayer calls the phone number on the flier and requests the advertised tax return services. The con artist then requests the caller's Social Security number, bank account and credit card numbers. This information once it has been obtained can be used to steal the unsuspecting consumer's money and identity.
These scams are effective because they prey on the trusting environment afforded to close-knit community groups. People who are confused by the complexity of the tax refund system and look for help assume this flier is coming from a trusted community member and let their guard down.
FreePhoneNumberFinder.com offers the following precautions to avoid becoming a victim of tax scams:

Consumers who are seeking a tax professional to help them do their taxes should do their homework on prospective candidates before providing personal or financial information. Check the local BBB website for complaints and ratings of local tax preparers.
If someone is advertising tax services, get the phone number on the flier and check it in free phone number finder to get more information about the individual or business associated with the number. FreePhoneNumberFinder.com aggregates the information from various databases and provides details like owner name, location, and background checks. An example for reverse phone finder for Orlando, Florida is available at Orlando Florida Phone Lookup.
Never give out sensitive or personal information to an unsolicited caller, even if they claim to be from the IRS or other government agency. The IRS will never ask for personal information over email or phone.
Be suspicious of offers or services that sound too good to be true. Be patient and thoughtful when making a decision, resist the impulse to act before getting the information to make an educated decision.
Always use licensed tax professionals and never believe someone who says they do not require tax documentation to process and file a return.
FreePhoneNumberFinder.com is a reverse phone number finder that combines the advantages of a reliable, complex free phone finder with those of a relevant search engine. In a matter of minutes, our customers find out everything there is to know on a certain phone number and the owner of that phone number without spending hours online to select relevant information. The information that FreePhoneNumberFinder.com reveals: address history, criminal records, location information and more help our customers to protect themselves, their families and their businesses. Please follow the official Phone Number Finder Blog for latest announcements.
About
FreePhoneNumberFinder.com provides information services that enable consumers to quickly and easily find services providing people and other information online by entering landline or cell phone numbers. Freephonenumberfinder.com aggregates, integrates, rates and delivers real-time people and phone search services from a variety of leading service providers to produce the best results in one location with consumer ratings eliminating the need for consumers to search across multiple websites.
Contact
If you have questions, please contact us at pr at freephonenumberfinder.com.
Facebook Page
Twitter Page
# # #