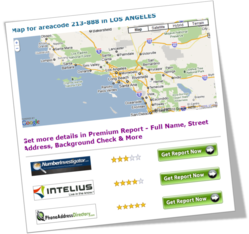 Consumers should never give out personal information to callers live or automated, that they do not initiate contact with.
Los Angeles, CA (PRWEB) October 24, 2011
FreePhoneNumberFinder.com, a leading online phone number finder, cautions residents of recent phone scam surfacing around the country. This "robo-calling" scam attempts to obtain consumers personal information, including bank account details and social security numbers over the phone or via text message to consumers' mobile phones. Be on guard and use area codes and reverse phone finder from FreePhoneNumberFinder.com to know more about the caller before continuing any conversation.
A news bulletin from Metro West Daily News explains how the scam works:
"An example of a script of a typical call is as follows: "This is a call from (such-and-such) Bank. Your Mastercard account has been locked. Please press 1 now to unlock." The recording then instructs the individual to enter his or her card number in order to activate it.
A similar text message asks consumers to call a number to unlock their debit card. A typical message states: "Dear (name) Bank customer, your account is locked. Toll free 1-(888)317-3670." That number connects to a recording which also instructs the individual to enter his or her debit card number in order to activate it."
FreePhoneNumberFinder.com urges consumers to protect their personal information and be on the lookout for "robo-calling" or texting scams. FreePhoneNumberFinder.com offers the following pre-cautions consumers should take in order to avoid becoming a victim of this scam:
> Consumers should never give out personal information to callers live or automated, that they do not initiate contact with.
> If a consumer receives a call or text of this nature they should contact their financial institution directly. They should not use the number provided and instead use a number found on a statement or the official website of the financial institution.
> Consumers should utilize a reverse phone lookup service like FreePhoneNumberFinder.com to obtain additional information like owner name, address about suspicious calls or text messages. FreePhoneNumberFinder.com enables consumers to easily find out more about the people or businesses associated with a landline or mobile phone number. For example, you can check out the area codes directory @ Michigan Phone Number Finder.
> Consumers who receive a "robo-call" or text message should contact the Federal Trade Commission at 1-877-382-4357 or online at ftc.gov where they can complete a report and provide information that can be used to prevent others from falling for this scam.
FreePhoneNumberFinder.com is a reverse phone number finder that combines the advantages of a reliable, complex free phone finder with those of a relevant search engine. In a matter of minutes, our customers find out everything there is to know on a certain phone number and the owner of that phone number without spending hours online to select relevant information. The information that FreePhoneNumberFinder.com reveals: address history, criminal records, location information and more help our customers to protect themselves, their families and their businesses. Please follow the official Phone Number Finder Blog for latest announcements.
About
FreePhoneNumberFinder.com provides information services that enable consumers to quickly and easily find services providing people and other information online by entering landline or cell phone numbers. Freephonenumberfinder.com aggregates, integrates, rates and delivers real-time people and phone search services from a variety of leading service providers to produce the best results in one location with consumer ratings eliminating the need for consumers to search across multiple websites.
Contact
If you have questions, please contact us at pr at freephonenumberfinder.com.
# Facebook Page
# Twitter Page
###