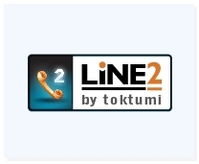 "We believe your phone number belongs to you, not the phone company," said Peter Sisson, Founder and CEO of Toktumi.
San Francisco, CA (PRWEB) December 9, 2009
The days of business phone service providers charging high fees to customers who want to keep their number when they change providers are over. Tokumi's "Take Back Your Number" program allows customer to port their numbers into Toktumi's hosted PBX system for free. All other carriers charge fees of up to $50 or more for number transfers.
"We believe your phone number belongs to you, not the phone company," said Peter Sisson, Founder and CEO of Toktumi. "Despite FCC requirements to make number transfer easy, traditional carriers use delay tactics and charge high outbound transfer fees. We don't think that is fair."
With Toktumi's free phone number transfers, customers no longer have to pay a fee if they want to keep their number when switching to their service.
Toktumi offers all of the traditional office PBX features needed for businesses, such as multi-line support, auto attendant, after hours call handling, custom greetings, conferencing, visual voicemail, keyword search dialing, PC-based calling, and unlimited domestic calling – all for just $14.95/month.
Toktumi also offers an app for smartphones, Line2, which allows customers to add their business number as a second line to their iPhones or BlackBerries.  Two numbers, two sets of contacts, two voicemail greetings – one phone. The innovative Line2 app was recently selected as one of the top ten smartphone apps for 2009 at the GigaOM Mobilize conference.
Sisson adds, "We are so confident customers will like our service, we'll even cover the cost on our side if they decide to transfer their number back out.  The new carrier may charge, but we won't.   We prefer to keep our customers through better service and lower prices, rather than holding numbers hostage."
Interested customers can sign up for a 30 day free trial of Toktumi's service at http://www.toktumi.com. The mobile app Line2 is available at http://www.line2.com. iPhone customers can download Line2 directly on their phones from the iTunes app store.
About Toktumi.com:
Toktumi provides a service that ties employee laptops, cell phones, and other phones into a unified communications system that allows them to present a professional image and communicate more effectively with each other and with customers. It targets the fastest growing type of small business: virtual offices and home offices. These companies use technologies like Toktumi to get the benefits of an enterprise-grade phone system and online collaboration tools without needing to purchase and install any equipment or spend lots of money. Employees can work anywhere and still be just as effective as if they were all together in one office.
###