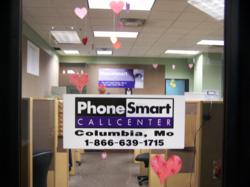 Columbia, MO (PRWEB) February 20, 2012
PhoneSmart, an off-site sales and reservation center answering self storage rental inquiries for more than 100 client companies and more than 800 individual properties in the United States, Canada and Mexico, today announced its top sales performers for the year 2011.
Two-Thousand Club Members:
Paul H.
Kurt S.
Ann S.
Jennifer N.
One-Thousand Club Members:
Natalie B.
Jim T.
Julia R.
Timothy S.
Michael L.
Narrisa N.
Nikkita W.
Nathan S.
Cody J.
Carlos E.
Stephanie M.
Travis M.
Robin T.
Patrick O.
Samantha L.
Ricky C.
Clarence J.
Nicole P.
Lucia D.
Laura R.
PhoneSmart recognizes those sales performers who join either the 2,000 or 1,000 clubs. These are the groups of sales performers who have personally booked either 2,000 or 1,000 storage units in a given year. Confirmed storage rentals or confirmed reservations are considered bookings for an individual sales performer.
Reflecting PhoneSmart's commitment to creating and living a Sales Culture, membership in the 1,000 club was not exclusive to full-time sales performers. The 2011 1,000 club also includes part-time sales performers, sales coaches, trainers, supervisors and managers.
To learn more about PhoneSmart and their services, visit http://www.phone-smart.info.
###