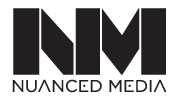 Tucson, AZ (PRWEB) April 23, 2013
Nuanced Media's partner, Direct Cellular, released a new plan to allow citizens receiving government aid a chance to receive Lifeline credit for landline or wireless service. Direct Cellular is now offering a $10.00 cricket Lifeline Credit to Arizona Cricket Wireless customers.
Nuanced Media continues to spread its business consulting across Arizona, Texas and California. The Nuanced team, led by CEO Ryan Flannagan, understands the importance of brand management. With over 30 clients to manage, Nuanced Media takes time to acknowledge the individuality of each company. Direct Cellular is constantly promoting amazingly-cheap deals for customers to take advantage of. With Nuanced Media, Direct Cellular has found more ways to appeal to the masses.
Lifeline is a government assistance program that grants eligible individuals a credit each month on their phone bill. Direct Cellular service delivers even more value for the dollar. Customers can add new features or enjoy the savings.
To apply, head to the website and look at the different options. The first option is based on government programs. This is open to anyone with one of the programs listed under method 1. The second option, is based on the number of people in the household.
About Nuanced Media:
Nuanced Media is a revolutionary marketing, website design and business consulting website. Nuanced takes pride in our hard work and dedication to drive more consumers towards your webpage. Through social media marketing, search engine optimization, and personalized website design the Nuanced Team ensures professional products.
Follow us on Facebook and Twitter