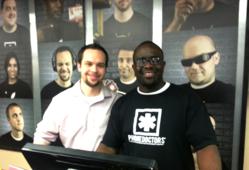 Phone Doctors has always known that real service starts with a genuine care and respect for customers and we're returning to our roots by striving to take it to an even higher level of finding creative and cost effective solutions for our customers
(PRWEB) January 01, 2013
The Journal of Clinical Psychology at the University of Scranton recently published a study on New Year's resolution statistics. This study found that 45 percent of Americans make resolutions.
Most resolutions have to do with making changes personally in regards to health, finances, and personal achievement. Alex Iser, CEO of Phone Doctors is challenging his staff, his stores, and his industry to not only reach for personal resolutions this year, but to resolve to provide a whole new level of customer service and support to customers who need their mobile devices repaired or replaced.
"Phone Doctors has always known that real service starts with a genuine care and respect for customers and we're returning to our roots by striving to take it to an even higher level of finding creative and cost effective solutions for our customers this year." said Alex Iser, CEO of Phone Doctors. "There is no excuse for lazy, mediocre service. Stop, take a moment and understand that customers need our help, so whether the task is big or small, do the best and handle it all.," said Iser.
Alex Iser has published the Phone Doctors top 5 resolutions for 2013 to increase customer service in the mobile device repair industry.
1: Focus on the customer and not the dollar. Put the customer first, the money will follow.
2: A mobile device is often a customer's most vital connection to their world. When something happens to that device, getting it repaired quickly and reliably is the number one priority.
3: "No" is never the answer. There are always alternatives to any issue that a customer may be having. Offer solutions, even if there is no profit involved.
4: Always express empathy for a customers wants and needs. It is not known how the customer's mobile device impacts their life and the lives of their loved ones.
5: Always be the expert. If we can't help the customer, then discover who can help the customer with any issue related to their mobile device.
Phone Doctors specializes in the repair of all major devices including iPhones, iPads, iPods, Androids and Tablets as well as provide device protection and gear while also offering replacement devices to no contract customers.
For more information, please visit Phone Doctors at http://PhoneDoctors.com
About Phone Doctors
Phone Doctors has five corporate locations in Northeastern Oklahoma and Northwestern Arkansas, as well as licensed dealers across the U.S.
For more information about Android Smartphone repair and iPhone repair, please call 1-855-234-9483 or visit: http://phonedoctors.com