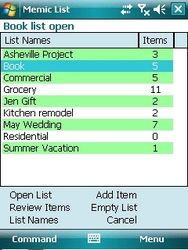 certified for Windows Mobile 6 Standard, Professional, and Classic devices
Pfafftown, NC (PRWEB) May 21, 2008
Winston-Salem, North Carolina (PRWEB) May 21, 2008 -- Imagineng, Inc. introduces "Memic List software for Windows Mobile devices". Memic List combines a simplified voice recognition approach with the capabilities of smart phones to expand how people list. The resulting mobile phone utility affords people a new luxury to list when needed and have lists at hand.
"Bill Gates has publicly stated his belief that voice recognition is the future of computing". Memic List voice recognition list software is being introduced for Window Mobile Professional and Standard devices. Lists can be opened and items added using voice recognition commands. Lists are conveniently located on your mobile phone and the need to type or write in data is virtually eliminated.
Memic List can open your lists and add or review items with voice recognition commands like 'add item' or 'review items'. A small number of voice commands means you're quickly proficient and recognition results are good. The utility of the software lies in its "flexibility to list in a variety of situations". "Items can be saved as voice recordings inside lists" to offer a mobile alternative to keypad data entry. When adding voice items "the software recognizes the end of speech and automatically trims recordings to reduce file sizes". "Text data entry is available but voice recording items becomes the preferred method". Either text or voice items can be reviewed with voice commands.
Acquiring the cadence of voice listing will require a little sit down practice before becoming effortless. A brief pause is needed before speaking to allow the voice recognition code to sample and filter out background noise. Once the rhythm of voice commands becomes natural you'll find yourself updating lists frequently and enjoy that those lists are readily available on your phone. While text based information is faster to review there is merit to easily capturing list ideas on your phone and in a variety of mobile settings. The software requires no voice training prior to use. Context sensitive commands are displayed at the bottom of the screen to assist in learning and an option allows that display to be removed when no longer needed. A fast choice control speeds data entry so voice items can be added and reviewed with minimal voice instructions.
Imagineng uses the talent of jazz vocalist Lorraine Feather for many command prompts. "The voice is pleasant and a good contrast to the digitized voice" used to provide application specific information.
Memic List is designed and "certified for Windows Mobile 6 Standard, Professional, and Classic devices" and available for download at http://www.voicerecognitionlists.com.
Contractors, housewives, and professionals can all benefit from this new approach to list management. Environment conscious consumers will find solace in a product that can help reduce driving yet consumes no raw materials to produce, requires no brick and mortar production facility, and has no shipping overhead. Merely download Memic List to a Windows Mobile phone and begin listing often and effectively.
Contact:
Kent Layher, Engineering
Imagineng, Inc.
276-336-6322
http://www.imagineng.com
###