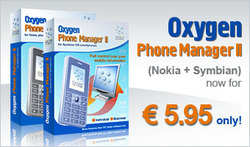 Moscow, Russia (PRWEB) December 11, 2007
Oxygen Software today announces the introduction of Software as a Service (SaaS), a highly beneficial service for Oxygen Phone Manager Series which allows the customers to save a considerable sum of money. This has been achieved by the introduction of the new licensing type of the product. The license for Oxygen Phone Manager Service from now on includes both of the applications: Oxygen Phone Manager II for Symbian OS smartphones and Oxygen Phone Manager II for Nokia phones. Moreover, a 1 month subscription for Oxygen Phone Manager is added to already existing licenses which have been updated for 1 year.
What is Oxygen Phone Manager?
Oxygen Phone Manager is an advanced PC Suite alternative and represents a series of programs (Oxygen Phone Manager II for Nokia phones. and Oxygen Phone Manager II for Symbian OS smartphones) which allows the user to control mobile phones or smartphones from PC in a simple and convenient way. The tools arsenal of the program in aggregate consists of more than 15 options and is really impressive: one could create and edit a phonebook any way they like, monitor all the calls made with Call Register, consult a calendar with all types of events supported (reminders, meetings, calls), make up a "To-do list" which allows to set a task name, priority, due date and alarm time; send, store and view all the SMS or MMS messages, incoming or outgoing; make up distinct and creative logos and tones; play various interesting Java games and applications. The program also has the ability to load and play records from the phone. The user can save the best of them in standard WAV format and delete the unwanted ones easily. As phones with an FM tuner are popular in mobile world, Oxygen Phone Manager allows to edit the user's FM stations best list. It also stores several presets so one can update the phone active list according to their mood. But it is not the end of the irreplaceable and entertaining features of Oxygen Phone Manager. Work with pictures, sound and videos: load files from the phone, add new ones, delete the unwanted, move them between phones, save on PC in various formats. To crown it all, Oxygen Phone Manager II gives an access to WAP settings and bookmarks and allows their convenient editing. A similar operation could be carried out with GPRS settings.
Oxygen Phone Manager Series is perfect for the business people who frequently use mobile phones or smartphones as an organizer, telephone directory and for young people who take an active part in SMS and MMS communication and use multimedia content.
User Benefits of the Software as a Service Offer
The customer gets the ability to purchase a "cheap entrance ticket": quite a modest fee is required to get a fully-functional product for 1 month. As the month passes, the subscription could be prolonged or discontinued. In that way the product price is substantially cut down for those users who would not like to pay for the whole-year updates. The subscription price is essentially lower than that of a 1 year product license. The user could prolong the subscription or get a program with a 1 year license at any moment.
All in all, Software as a Service (SaaS) is another step of Oxygen Software towards the user. Now the customers can pay for the usage of a product only when they wish to do it.
Pricing and Availability
Oxygen Phone Manager II for Nokia phones and Oxygen Phone Manager for Symbian OS smartphones run under Windows Vista, XP, 2000, 2003. The subscription to Software as a Service costs 5.95 Euro a month. To get more information on the product, the SaaS offer and to learn its price, please, visit http://www.oxygensoftware.com.
About Oxygen Software
Founded in 2000, Oxygen Software is a Moscow, Russia-based company, targeting the mobile market with its PC software for cell phones and smartphones. For seven years of impeccable work, the company has received various awards from well-known Internet and print magazines and become famous worldwide. Among its leading titles are Oxygen Forensic Suite, Oxygen Express for Nokia phones and Oxygen Phone Manager II for Symbian OS smartphones (all Symbian smartphones supported - Nokia, Sony Ericsson, Motorola, Samsung, etc). The company is an official member of Nokia Trade point and Forum Nokia PRO. For more information, please, visit http://www.oxygensoftware.com.
###