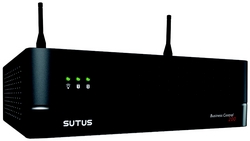 Vancouver, BC (PRWEB) January 15, 2008
Sutus Inc., a leading manufacturer of converged Phone, Data and Networking solutions, today announced a host of new features for the award winning Sutus Business Central™ - a unique all in one office communications system providing advanced data and networking capabilities and a business-class phone system designed specifically for Small Businesses.
The Business Central product line already represents the most comprehensive integrated phone, data and networking appliance available to small businesses today. The latest software release includes support for soft phones and remote offices, enabling remote and traveling workers to stay connected to their office.
Additional upgrades include a number of advanced networking features such as Port Forwarding, Private IP address support and Primary Domain Controller (PDC) control to support an even wider array of installation environments and other network devices. Business Central has always utilized Internet Message Access Protocol 4 (IMAP4) to easily access and synchronize email and voicemail across multiple inboxes on PC's and handheld email clients, this latest release now enables you to easily forward copies of your email to other email accounts.
Designed for businesses with under 25 employees, Sutus Business Central™ integrates all essential IT and communications tools a small business needs into a single, easy to use appliance. It is a business-class phone system with a wide array of advanced data and networking functions such as: file server, email server, router, firewall, wireless access point, VPN remote access server, automated backups, and with the ability to simultaneously support both standard phone line and VoIP connections.
Shawn Chute, executive VP for Sutus, commented, 'The business environment that most small companies operate in requires them to seize every advantage and to change quickly as their needs grow. As a result, the Sutus Business Central is constantly evolving to provide maximum functionality and flexibility for the small business.'
About Sutus
Sutus provides small businesses with an enterprise quality all-in-one solution that delivers telephone and office network infrastructure that is affordable and robust. Sutus Business Central significantly improves a reseller's ability to profitably service small business customers with locations of 25 users or less. For additional details, please visit http://www.sutus.com. For more information please contact Sutus at (778) 371-5286 or by email at info at sutus.com.
###