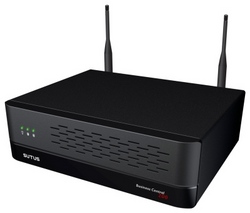 We heard about Sutus from several of our resellers that focus on the SMB market and as we began working with them to certify the Sutus Business Central, we were immediately impressed with their solution
Vancouver, BC (PRWEB) October 30, 2007
Sutus Inc. (http://www.sutus.com)], a leading manufacturer of converged Phone, Data and Networking solutions designed specifically for Small Business, today announced that CommPartners Connect, a leading nationwide CLEC certified, facilities based network operator providing VoIP and TDM services to carriers as well as enhanced Hosted Applications to small and medium sized businesses has certified the Sutus Business Central to Interoperate with CommPartners IPTrunking(tm) services.
As a CommPartners Connect certified device, the Sutus Business Central is now available with CommPartners IPTrunking(tm) service and billing solutions to both Sutus and CommPartners Connect agents and resellers who want to earn product sales revenue as well as monthly recurring revenue on CPE-based VoIP services.
Designed for businesses with under 25 employees, Sutus Business Central (tm) integrates all of the essential IT and communications tools a small business needs into a single, easy to use and manage appliance. It is a business-class phone system with advanced data and networking functions such as: file server, email server, router, firewall, wireless access point, VPN remote access server, automated backups, and with the ability to simultaneously support both standard phone line and VoIP connections.
"As a leader in VoIP services, CommPartners Connect, like Sutus, is focused on delivering straight-forward, easy to deploy solutions," said Shawn Chute Sutus' Executive vice-president. "After becoming a certified Polycom VIP vendor, it was natural for us to pursue certification by Commpartners Connect and integrate their SIP Trunking service with the Business Central. Now both of our reseller channels can easily deploy a complete small business IT and communications solution with integrated VoIP service with a few clicks of the mouse."
"We heard about Sutus from several of our resellers that focus on the SMB market and as we began working with them to certify the Sutus Business Central, we were immediately impressed with their solution" said Mark Peterson, CommPartners Connect EVP, Sales and Marketing. "Sutus goes well beyond being just an IP PBX; it is a complete office solution. We are very pleased to certify the Business Central and work with them to deliver real value to small and medium sized businesses."
About Sutus Inc.
Sutus provides small businesses with an enterprise quality all-in-one solution that delivers telephone and office network infrastructure that is affordable and robust. Sutus Business Central significantly improves a reseller's ability to profitably service small business customers with locations of 25 users or less. For additional details, please visit http://www.sutus.com. For more information please contact Sutus at (778) 371-5286 or by email at info at sutus.com.
About CommPartners Connect
CommPartners Connect is a nationwide IP-based network operator providing wholesale VoIP and enhanced IP applications to carriers, strategic partners and VARS. The CommPartners Connect IP network has been engineered to provide business-grade, IP-based voice and other value-added services. CommPartners Connect has obtained Competitive Local Exchange Carrier (CLEC) certifications in 49 states and the District of Columbia and certification in Alaska is pending. With nationwide IP network coverage, CommPartners Connect delivers reliable, high quality, and competitively priced carrier and wholesale hosted IP services for business including IP PBX, IPTrunking™, and hosted contact center. CommPartners Connect wholesale services are supported by a scalable and automated OSS platform for billing and account management. For more information, call 702-367-VoIP (8647) or visit the CommPartners Connect website at http://www.commpartnersconnect.com.
###