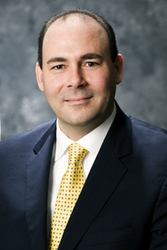 I was working for the sixth largest Internet company and they had a big downsizing, I was impacted
(Vocus) June 24, 2009
In a new podcast on Total Picture Radio, Paul Bailo, founder of Phone Interview Pro and author of The Official Phone Interview Handbook, tells listeners how to ace the employment phone screen and win in today's Hyper-Competitive job marketplace.
Paul Bailo has been there himself: Unemployed, sitting in the outplacement office. "I was working for the sixth largest Internet company and they had a big downsizing, I was impacted," he told producer/host Peter Clayton in a new career podcast on Total Picture Radio, a popular Internet radio show. "I was in outplacement and it occurred to me that as I spoke to people, everyone had said when you go for your face-to- face interview, this is how your resume should look, this is how you should dress, but no one actually looked at what has become an essential first step in the process, the phone interview. So I said to myself there must be a need here for people to do real research on the phone interview."
And research he did. "What I did was come up with very unique ideas that don't exist currently in the career services industry. It's my own research, it's done very methodically, very scientifically, and it's a compilation of over 250 different strategies to ace and perform a world class employment phone interview." Part of the research Bailo's team conducted fascinated Clayton: "Down to the number of phone rings before you answer the phone?" he asked. "It's an interesting thing." Bailo said, I've taken it to a very scientific level and looked at every key aspect of the phone interview… So when we did our research from the hiring manager perspective, the surveys indicated the fact that they like people when they pick it up on the second and third ring. Their impression of the candidate when they pick it up on the first ring is that they're too needy."
Clayton was making a presentation to a senior executive networking group in New York City when he met Paul Bailo and learned about Phone Interview Pro. "I thought, once again, many of the best ideas are the most obvious. No one, particularly at the professional level, gets to a face-to-face job interview today without successfully completing a phone interview. I really wanted to bring Paul's research to my audience on Total Picture Radio."
Clayton asks Bailo in the podcast, "What in your research did you find was the biggest mistake people make in doing these phone interviews?" According to Bailo there is not one, but three: "The first is not being yourself, Bailo said. "There is only one of you in the universe, right? So you're very, very unique. You really want to be yourself at your best."
He continued, "The second big mistake we see is that people aren't prepared, and that means they haven't done the research, they haven't really prepared their work environment for the phone interview, there is a lot of distraction." (Bailo even recommends getting dressed up in job interview clothes for the phone call with the potential employer, to put yourself in a professional mindset). "The third biggest thing that we find, which is very interesting," he reveals, "is the fact that people do not spend enough time on the phone handshake… What our research is indicating is most people rush into the phone interview."
Bailo's website, http://phoneinterviewpro.com, provides a unique service to professionals in career transition. "I actually hold the patent on the process of phone interview scoring," he tells Clayton.
The core of Bailo's new service is a mock phone interview with a member of his staff, a senior level person who has years of experience predominantly either a graduate degree or a Masters degree in the HR arena. "We offer, for $69.95, a mock phone interview, but it's a real phone interview," according to Bailo. "The minute that phone rings, we start scoring you… We have a number of unique psychological questions that we ask you… I've built an algorithm and a database and we run the algorithm, and the algorithm predicts the probability of you being recommended to the hiring manager, and it also gives you a gauge of how you performed against your peers in that industry based on your level, and based off of your education."
Paul Bailo's in-depth 28 minute podcast with Peter Clayton on Total Picture Radio includes a complete transcript of the interview. His new book, The Official Phone Interview Handbook, is the #1 phone interview book on Amazon.com.
###