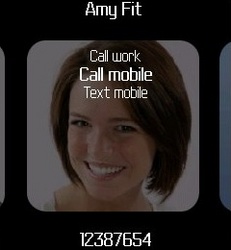 PhoneFace is a light and breezy speed-dialer aimed at helping anyone reach out to their friends and family more quickly with their BlackBerry smartphones
Wye Valley UK (PRWEB) August 15, 2008
Electric Pocket today unveils PhoneFace, a speed dial application for BlackBerry smartphones that launches phone calls, text messages and emails with the simple click on the photos of a users' most commonly dialed contacts. The program shows full-screen photos of a user's friends to offer a fun and easy way to locate the right contact to call. PhoneFace even retrieves the most recent pictures of contacts from Facebook.
Rather than forcing users to scroll through hundreds of contacts in the Address Book of their BlackBerry, PhoneFace adds a new twist to "speed dialing" by enabling them to flick through photos for their most commonly called contacts with their trackball and quickly select the person they wish to call.
PhoneFace users can select any picture files for their contacts - whether they are stored on their BlackBerry or storage card - and for the millions of Facebook users around the world, Electric Pocket has added the ability to locate and update the pictures of PhoneFace contacts with their most recent pictures posted on Facebook profiles. This Facebook integration gives users a ready source of excellent photographs for their contacts - and uniquely, the speed-dial picture becomes a photograph chosen by the contact themselves.
"PhoneFace is a light and breezy speed-dialer aimed at helping anyone reach out to their friends and family more quickly with their BlackBerry smartphones," said Iain Barclay, Electric Pocket's co-founder and Chief Product Officer. "It's so much easier to look for a familiar face than sort through hundreds of names in a directory."
PhoneFace is available now from Electric Pocket's PhoneFace web site for an introductory price of $9.95.
About Electric Pocket Limited
Electric Pocket is a privately held company offering leading-edge mobile and wireless computing solutions and services from its base in the Wye Valley, UK. The company's product portfolio includes a rich set of wireless media and messaging applications and solutions. For more information, visit http://www.electricpocket.com.
###