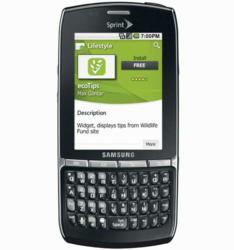 The EVO Shift is a fantastic little package. It has the power to stand toe to toe with the latest Apple offering, it has the advantage of the Android OS, the addition of a keyboard is sometimes a life saver and the 720p screen is simply beautiful.
San Fransisco, CA (PRWEB) June 11, 2011
One great disadvantage with the phones at PhonesOverstock.com that are custom built for the mobile operators or provided by the mobile operators themselves is the fact that most of them lack key features and are inferior in quality.
However, there are mobile operators like Sprint who stand as an exception by launching mobile phones that are very unique and path breaking. From the LG Optimus that can be bought for free online to the Google Nexus 4 they have launched recently, the Sprint phones are very advanced and are high quality.
Among the newly launched Sprint phones is the new Samsung Replenish. Replenish means to inspire; which is a very suitable name for the phone, one will agree after going through the specs of the phone.
34% of Samsung Replenish is made out of recycled material, even the package is made of recycled material. The Samsung Replenish comes in Artic blue, Onyx black and raspberry pink color and will cost you $49.99 after a $100 instant rebate, which you should be able to get without much trouble. There is a 2 year contract that comes along with the purchase of the eco friendly android phone.
The phone is tall and resembles Motorola droid pro. Colour and sharpness of the 2.8 inch touch screen is decent. The keyboard feels a bit cramped and keys offer lesser grip when compared to other keyboards. The button and the plastic quality aren't that great, but for the cheap price, there isn't much that anyone can expect.
The phone also has a Micro USB charging port at the bottom, a power button and a headset jack at the top, volume rocker button on the left and has voice command plus camera shutter button to its right. The phone has a 2 Mega Pixel camera and a micro SD slot is located behind the back cover. Samsung replenish supports memory up to 32GB and is powered by Android 2.2 OS.
If you are someone who is energy conscious, you could by the optional back cover that has solar panels on it for an extra $29.99. With qwerty keyboard, packed with the power of android 2.2 and many other unique eco friendly features incorporated in the phone, the Samsung replenish is one of the cheapest and best eco friendly Sprint phones available in the market at places like PhonesOverstock.com.
# # #