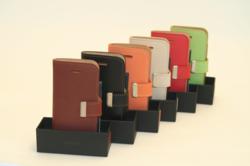 Fenice marries exquisite Italian leather and German magic tape technology with unique Korean manufacturing techniques
Richmond upon Thames,Surrey (PRWEB UK) 31 January 2013
Fenice marries exquisite Italian leather and German magic tape technology with unique Korean manufacturing techniques to provide customers with the most innovative and stylish handcrafted smart device accessories on the market.
Having previously provided prestigious car and footwear brands with cutting-edge techniques for material design and manufacturing, in 2009 Fenice started producing premium smart device accessories- creating phone and tablet cases to the same high standards as their distinguished clients had come to expect.
Fenice cases are beautifully handcrafted to ensure that every case is impeccable and a patented process that creates seamless joints and bonds materials together therefore removes the need for messy stitching or glues.
German Magic Tape technology securely bonds the device to the case without any extra casing, making Fenice cases some of the lightest and thinnest in the world. Magic Tape allows your device to be removed and replaced indefinitely with no sticky residue.
These unique technologies mean that FENICE cases are some of the sleekest, slimmest and most elegant in the world- and they are now available in the UK for the first time.
At the high- end, Fenice's flagship range- Cima is luxurious and stylish and retails for up to £99. The finest quality Italian leather encases the phone, with the detail of a small fastening. Inside the case is a pocket that allows cards or a small amount of money to be carried securely. Business cards could be kept in it for a chic professional look, or the Cima case would be all that you need to accessorise a stylish outfit at any event. The Cima comes in a broad range of beautiful colours to suit any style, mood or season. 
The Diario iphone 5 Collection is unbelievably light and and slimmer than a Penny! Its affordable range of colours and designs means that you can have a different case for every day of the week.
All Fenice products are manufactured according to the Oeke-Tex® Standard 100 - the cases don't contain any harmful substances in accordance to EU regulated standards.
Fenice cases are available for most smartphones & tablets including the iPhone 4 & 5, the iPad and Samsung Galaxy ranges.
Phonezest Limited is an online retailer and distributor of premium accessories in the UK & Ireland.