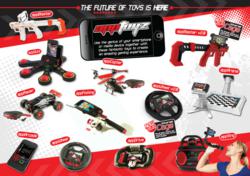 Appcessories connect and interact with smartdevices and apps, enhancing the overall smartdevice experience.
(PRWEB UK) 28 February 2013
What is an appcessory?
In the UK, over half of the population now uses smartphones and tablets. There are apps for everything; with some apps receiving hundreds of millions of downloads every month. However, increasingly, people want more from their phones and tablets - they want a truly personal experience from their premium product - this is where appcessories come in. Appcessories connect and interact with smartdevices and apps, enhancing the overall smartdevice experience.
PHONEZEST.COM focuses on the key areas of appcessorising; games, entertainment & creativity, fitness & health and security.
Phonezest has partnered with Apptoyz to provide the consumer with some of the most popular, fun appcessories on the market. Using peripheral devices that connect to smartdevices and free downloadable apps, Apptoyz takes the portable gaming experience to the next level. Examples of Apptoyz are the fully interactive Appquiz, Appfishing and Appdrive, and the state of the art gyro-stabilized smartdevice controlled Appcopter and Appracer. There is even the Appsing, that transforms a smartphone into a fully portable karaoke machine!
Another lifestyle appcessory is the ingenious Bubblescope. This little camera attaches onto any iphone, ipad or ipod and records a 360 degree video which can then be viewed over and over from any angle - immortalising special memories in a 360 degree action replay!
Fitbit Ultra wireless activity and sleep tracker has already been making waves in the fitness community. This clever little device monitors physical activity day and night to provide real-time feedback on steps, distance, stairs climbed and calories burned to encourage the user to be more active. It wirelessly uploads this data to fitbit.com to gain a deeper insight into personalised fitness levels with free charts and graphs. Fitness enthusiasts can earn 'fitness badges', connect with friends or join the online community for advice and encouragement. There is even the Fitbit Aria Wi-Fi Smart Scale that measures overall weight, body fat percentage and body mass index (BMI) to help track progress.
The health-conscious person may also be interested in the wireless Blood Pressure Monitor that, for the first time ever, tests, tracks and shares accurate blood pressure readings and heart rate wirelessly with any ios device.
A must-have for anyone who has ever lost their keys is The Mi-Zone- a Bluetooth 2-way proximity alarm system that works with a smartphone or tablet. Simply attach a Mi-Zone tag to anything valuable or that has a tendency to disappear and the smartdevice will light up with a flashing screen and an audio alarm if they are moved outside of the designated security zone. It can also be used to keep track of your smartdevice if you misplace it using the locator function on the tag.
Appcessories have opened up a new world of possibilities for the smartdevice user. By carefully selecting the most innovative premium products, Phonezest Ltd takes the mystery out of finding everything the discerning customer needs to make their device fit their lifestyle.