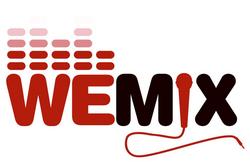 WeMix is all about creating opportunities for talented new artists to gain exposure, build their fan bases, and spread their music to as wide of an audience as possible
New York, NY (PRWEB) December 9, 2008
WeMix.com, the user-generated music creation community created by Grammy award winning artist Christopher "Ludacris" Bridges and Phonezoo (http://www.phonezoo.com), the leading mobile social media and entertainment destination, announced today that they have combined forces to launch an innovative content distribution partnership.
The user-generated music creation community for indie artists and the major user-generated mobile content service have partnered in a ringtone creation and distribution relationship that will allow independent artists and musicians to create ringtones of their chosen original songs and distribute them across Phonezoo's robust, popular and free digital platform and enable its membership of millions to download the ringtones to their mobile phone.
"WeMix is all about creating opportunities for talented new artists to gain exposure, build their fan bases, and spread their music to as wide of an audience as possible," said Gary Fisher," WeMix Chief Content Officer.
To kick-off the partnership, a WeMix channel with profiles and ringtones of top WeMix artists will launch on Phonezoo.com. The WeMix/Phonezoo channel will provide further opportunity for dedicated musicians and artists who utilize all available avenues to further expose their music, "I am very excited about being included in this promotion, says indie Hip Hop artist and top WeMix artist, Phokuz." "This is a great opportunity to grow my fan base and expose my music to a wider audience." The channel is also launching a contest where the winning artist will win the chance to meet Ludacris.
Since its May 2008 launch, WeMix has built a base of over 50,000 active artists, musicians and songwriters to the site and over 100,000 original songs. WeMix has been successfully steadfast in producing a diverse variety of cross-genre artist development programs and site features to help artists develop and promote their music to a wider base. In June 2008 it launched mobile capabilities that allow artists to upload music to the site and broadcast their original music in real time from anywhere in the world using a telephone. The Phonezoo/WeMix ringtone distribution partnership further enhances WeMix.com's service capabilities and is the first of several planned WeMix channels to distribute and promote its diverse catalog across all digital platforms.
"Our users love to find hot new content for their phone", said Ram Ramkumar, Phonezoo's Co-founder and CEO. "We are excited to work with WeMix to further expand the content library and make it possible for indie artists to reach and gather feedback from millions of Phonezoo fans".
WeMix and Phonzeoo, whose services are free to users due to advertiser funding, will also benefit from even further increased site traffic and membership respectively as a result of the cross-visitor pollination that will ensue as a result of this ringtone distribution partnership. "Ringtones are a popular music format, and we are delighted to partner with Phonezoo to create this first WeMix distribution channel," said WeMix co-CEO Matt Apfel.
For more information on the WeMix ringtone channel on Phonezoo, please go to
http://www.phonezoo.com.
For more information on WeMix, please go to http://www.wemix.com
About Wemix.com:
Created by Disturbing Tha Peace Entertainment and MegaMobile TV, WeMix.com is a music-creation community and user-generated record label that enables unsigned singers, rappers, songwriters, musicians and producers to be heard and get discovered. Artists who join the WeMix.com community and upload their creations have the potential to sell their work directly to the consumer. Top-performers can also become eligible to have songs produced by Ludacris, thereby opening up an entirely new way to launch a career outside of the traditional music hierarchy. Please visit http://www.wemix.com to learn more.
About Phonezoo Communications, Inc:
Phonezoo.com is a next-generation mobile content site. By bridging the web and the mobile, Phonezoo has enabled effortless content creation, discovery, download and mobile personalization experience. It has revolutionized the mobile content marketplace by applying the ideas of user created content and the power of the community.
Since its launch, Phonezoo has become a leading mobile social media and entertainment site in North America with more than 6 Million users. Every day, hundreds of thousands of contents are created, discovered and downloaded by members of the Phonezoo community.
###