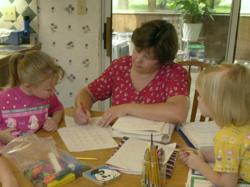 The modern homeschool movement has made significant strides in the past 15 years in part because of technology advancements.
Los Altos Hills, CA (PRWEB) August 21, 2012
Homeschool demographics are changing and continuing to grow in America. The number of parents choosing to homeschool has surged as many see the benefits through the stereotypes. As summer breaks across the country end, more than ever, parents who homeschool are taking advantage of the advancements in digital learning, using interactive programs like StudyDog to help build their homeschool curriculum.
"The modern homeschool movement has made significant strides in the past 15 years in part because of technology advancements," said Deme Clainos, CEO of StudyDog, an online reading program for elementary school students. "When parents need additional help teaching a subject there is a huge market for curriculum materials, online tutoring and other resources that enable them to teach a wide variety of subjects."
Once mostly practiced by religious conservatives and those wanting to live off the grid, now many highly educated urban parents are joining the ranks of the homeschoolers, Clainos said.
There are many reasons parents choose to homeschool their children, despite common criticisms like children not being able to develop strong social skills, parents not being properly certified to teach, children missing out on multiple teaching styles or not being properly prepared for college instruction. But many see these points as unproven and are challenging the traditional education system, Clainos said.
A recent study from the U.S. Department of Education found that 36 percent of parents homeschool for religious reasons, 21 percent due to concerns with the school environment and 17 percent because of dissatisfaction with the academic instruction their child is receiving.
Many parents who choose homeschooling place a high value on individual engagement and creating a more personalized approach to their children's educational needs, Clainos said.
Others homeschool because it's a different approach to family, giving parents the opportunity to interact with their children more than they would be able to if students were in traditional schools.
One of the top criticisms of homeschooling is that children do not receive the same social opportunities that their peers in the public schools receive. But homeschoolers often participate in a variety of activities and social settings including church groups, sports teams, Scouting, choirs and bands, Clainos said.
Another major criticism of homeschooling is that parents are not qualified to teach. Parents are their children's first teachers and generally have a strong understanding of their strengths and needs. If they are unable to help with a particular subject they can use outside resources like StudyDog to help fill that need, Clainos explained.
Parents may tailor their child's education and take extra time to go over subjects students are struggling with, giving kids one-on-one attention they wouldn't get in a regular classroom. When the time for college approaches many homeschoolers are prepared and do well because they are more aware of their personal academic interests. Click here to learn about how programs like StudyDog help young readers master phonics and other important concepts.
Homeschooled students also score high on standardized tests, according to a survey by the National Home Education Research Institute.
About StudyDog
StudyDog is a proven leader in helping children quickly learn to read and has helped more than 2 million kids master basics like phonics. The company creates interactive reading programs specially designed for elementary students. What sets StudyDog apart from other learning programs is how StudyDog engages future readers as young as three years old. Similar reading software is able to engage older students who already know how to read. But StudyDog uses games and other features to connect with younger children who haven't learned to read yet. StudyDog's Adventures in Reading series is used in more than 3,000 schools nationwide. The lessons were designed to meet state early learning standards and the guidelines of the National Reading Panel. Founded in 2002, StudyDog programs have been used in schools for the past six years. For more information, visit http://www.studydog.com or call 1-866-643-4449.