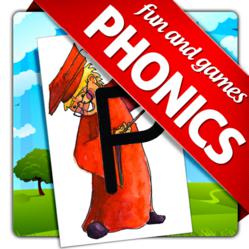 "My kids loved the Scholarville characters and went back to some letters again and again to hear about their favorites."
Valerie Lauer, Bestappsforkids.com reviewer
El Dorado Hills, CA (PRWEB) December 20, 2011
Phonics Fun and Games, the 4-in-1 iPhone/iPad app by Pre K Scholars was awarded two top ratings last week. On December 15 BestAppsforKids.com gave a 4.5 star and Editor's Choice rating to the app and two days later FunEducationalApps.com made it a "Top Pick."
"Phonics Fun & Games is one of the best apps I've seen that manages to be repetitive without being redundant or boring," wrote Valerie Lauer, BestAppsforKids reviewer. "The games are self-paced, easy to play and there's no timer or scoring method hanging over kids heads."
The FunctionalEducationalApps review summarized, "Phonics Fun & Games is a lot more than just an ABC app. It offers a full interactive learning package that stimulates, engages and entertains. This learning app is very well done, allows independent learning, offers original and innovative content, beautiful illustrations … and … just check it out! We loved it and you guessed right, it is definitely a Fun Educational Top Picks."
"It is gratifying the reviewers recognized our commitment to producing kindergarten readiness materials that are engaging, fun, age appropriate and educational," said former kindergarten teacher and founder, Amy Schwary. "We designed Phonics Fun and Games to be a freestanding app that a 3-5 year old could use independently but also as an engaging supplement to our award winning phonics-based Kindergarten Readiness Kit. The Kit is a 22-week preschool curriculum that also works well as a homeschool preschool curriculum to prepare children for the next level."
A number of studies of five year olds have concluded about half are unprepared for school success. Pre K Scholars hopes to impact the statistics by producing innovative educational materials in a variety of formats. An Android version of Phonics Fun and Games is in development.
About Pre K Scholars
Founded in 2008, Pre K Scholars was developed by Amy Schwary and Alan Pierrot, MD with a vision of providing affordable resources to parents, teachers and preschools to enhance the kindergarten readiness of the population.
###