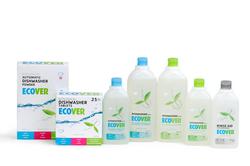 Ecover does the dishes, not the fishes
Long Beach, CA (Vocus) March 10, 2008
Amidst heightened concern for the impact of phosphate-based products' on the environment, Ecover reminds consumers that their dishwashing detergents, and other household cleaners, were created with the environment in mind and have always been, naturally phosphate-free.
"Ecover does the dishes, not the fishes," remarks Kipling Rutherford, Ecover Marketing Assistant. "Phosphates are a completely unnecessary ingredient in the engineering of an effective cleaning agent."
Ecover products were found to be so effective that product testers in the January 2008 issue of Consumer Reports rated Ecover Dishwashing Liquid "excellent" among both environmentally and not-so-environmentally-friendly leading national brands, alike.
While phosphates provide nutrition to marine life, the overabundance of them in conventional cleaning products causes algal bloom that essentially suffocates aquatic life, in turn upsetting nature's delicate balance.
Many states in the U.S. are lobbying to rid phosphates from products altogether, as Canadian provinces, Quebec and Manitoba, follow suit. Under pressure from a Washington law passed in 2006 that outlawed the sale of phosphorous dishwashing detergents, the Soap & Detergent Association recently conceded to the move by lawmakers to ban phosphate-based dishwashing detergent in all of the U.S. by 2010.
"By taking it out of the consumer flow, we are saving money on technology. It's a lot cheaper to get it out of the stores than to try to remove it through wastewater-treatment plants," said Rick Eichstaedt, a Center for Justice lawyer who represents the Sierra Club in ongoing negotiations for cleaning up the Spokane River. (Seattle Times)
Founded with the cleanest of practices in place in Belgium in 1980, Ecover is today one of the most recognizable brands around the world. Behind the success lies a fascinating ethos that places the environment firmly at its core. At Ecover, it's fair to say the contribution to the environment is a bit more significant. Oriented with the rise and the fall of the sun, for the reduced use of artificial lighting, their ecological factory runs almost solely on solar power, utilizes an advanced eco-friendly heating and a water treatment system, and boasts a green roof the size of Wembley Stadium.
Moreover, the Ecover lifecycle – from the raw materials, to the end product in the bottle – takes every consideration for making only a minimal impact on the environment. This means refusing to include ingredients such as phosphates in their products.
ABOUT ECOVER
For over 25 years, Ecover has been producing products that adhere strictly to the World Health Organization's definition of heath, which incorporates the wellbeing of the whole
person – both mental and physical – and the environment in which they live. Ecover is constantly innovating and pushing boundaries to create new and more effective products that have minimum negative impact on the environment, and consistently achieves extraordinary ethical standards with its products, management and production methods. For more information, visit http://www.ecover.com .
CONTACT:
Kathy Kniss
kathy@cleanagency.com
(626) 744-9178 x17
###