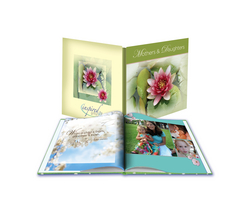 We are pleased to announce our website launch. InspiredGifts.com aims to provide your family with meaningful photo books and keepsakes for years to come.
Kihei, HI (PRWEB) April 7, 2010
Rebecca DiPersia announced today the website launch of InspiredGifts.com. The company adds a twist to traditional photo book websites by offering custom photo books and keepsakes embellished with inspirational quotes and personal photographs.
InspiredGifts.com is on a mission to create photo books and personalized gifts that provide meaning to the creator. Their newly launched Inspirational Photo Book Collection celebrates all life's occasions. Current themes in this collection include family values, the bonds of mothers and daughters, and a book of healing for those overcoming illness. Designed by you, each photo book in this collection pairs hand-selected inspirational quotes with personal photographs. The end product much like the popular gift books found at card stores, but with chosen quotes and photographs significant to the creator.
Visionary and founder, Rebecca DiPersia said, "We are pleased to announce our website launch. Inspired Gifts aims to provide your family with meaningful photo books and keepsakes for years to come."
For little ones, Inspired Gifts features exclusive children stories and baby memory books. Parents now have the opportunity to give their child the gift of being the lead character in stories created just for them. Children's books and stories are themed around popular adventure outings, such as going to the zoo, park and camping; popular sports, such as baseball, soccer, ballet and surfing; and original children stories.
The baby memory book collection gives families the opportunity to welcome their newest addition with a lasting keepsake. Baby photo books provide a place for big brothers and sisters to share all the special moments of becoming siblings. Grandparents can record cherished thoughts, love and memories. And parents can capture every inch of their new bundle of joy. All baby memory books incorporate heartfelt words to express what each family's blessing has brought into their life.
Other photo book collections include special occasions, weddings, anniversaries, graduation and friends. Additional photo products available at InspiredGifts.com include digital printing in sizes from wallets to enlargements, greeting cards, notebooks, calendars, day planners, wall banners and more. Also of special interest is their vast inspirational quote library, inspirational movies and inspired living resources.
All Inspired Gifts press-printed photo books, calendars, cards, Earthtru™ Prints and other photo products are produced by the eco-friendly Kodak NexPress. Each photo book and product is designed by you at InspiredGifts.com and shipped directly to your doorstep when finished.
For more information about Inspired Gifts, or to get started designing and customizing photo books, personalized gifts and keepsakes, visit http://www.InspiredGifts.com.
###