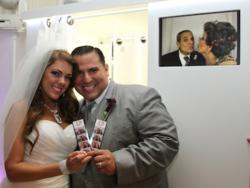 The official long island photo booth rental is Incredibooths!
Hicksville, NY (PRWEB) January 19, 2012
The LIWeddings.com Wedding Of The Year is a full mock wedding complete with a bride and groom (a previously married couple), a bridal party (more post-nuptial couples who just can't get enough of the walk down the aisle) and of course vendors to make the day spectacular! It is designed to bring brides planning a wedding together in a fun social environment while showcasing long islands best wedding vendors. One of the vendor categories that garners much attention and anticipation is the photo booth. Brides are always buzzing about which photo booth will have them all smiles.
This year the official long island photo booth rental is Incredibooths! Incredibooths is a proven leader in the photo booth rental market providing hundreds of clients with the hottest photo booths around and their signature VIP service.
"Besides their list of celebrity clients - the photo booths rented by Incredibooths are also a huge hit for my wedding clients looking for a great wedding photo booth - I use them for my clients because well, their booths just look better!" say's NYC wedding planner Alex Tivena.
Incredibooths is proud and honored to be part of such an amazing event. It will be held this Saturday, January 21, 2012 at Chateau La Mer in Lindenhurst, NY. The event is of course sold out and by invitation only with proper tickets and ID! It will surely be an event to remember!
Incredibooths Photo Booth Rental specializes in wedding photo booth rentals. To reserve a photo booth or for more information please visit them online at http://www.incredibooths.com or by calling 631-320-8580.
###