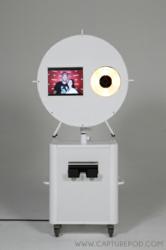 Marketers are getting more and more creative with photo booths at corporate events.
Miami, Florida (PRWEB) October 12, 2012
Portable photo booth company, Capture POD, has partnered with Executive Fantasy Hotels to bring a live photo shoot and "kissing booth" to Grovetoberfest on October 13, 2012 at Peacock Park. The live photo shoot will take place in the Fantasy Photo Lounge, which is designed to look like an Executive Fantasy Hotels' adult suite (pole included). Capture POD is bringing the lights, camera, action to the lounge with their new open-style photo booth called the RAZZI. People will be able to pose with models, and pictures will print instantly on-site.
"Marketers are getting more and more creative with photo booths at corporate events," says Carlos Pacheco, CEO of Capture POD. "Because the RAZZI photo booth has no enclosure and a flash lighting system, people are really going to feel as if they're part of a live shoot." Both the RAZZI and Capture POD use professional DSLR cameras to take studio-quality pictures. "Our photo booth concept started as mobile professional photography," Pacheco continues.
In addition to the live photo shoot with the RAZZI, Executive Fantasy Hotels is also putting their own spin on the Capture POD photo booth by branding it as the Executive Fantasy Hotels "kissing booth." The kissing booth will have a step-and-repeat style photo backdrop and photo strips will print instantly with their logo. "It's a fun, fast way to get the Executive Fantasy Hotels brand into the hands of many," says Pacheco. The kissing booth will also give users the option to enter their email addresses to receive an electronic copy of their photos. This feature is a beneficial marketing tool for Executive Fantasy Hotels because they will receive a list of the collected emails at the end of the event.
For information on how to rent or purchase a Capture POD or RAZZI photo booth, please visit http://www.capturepod.com.
About Capture POD:
Capture POD offers modern photo booth rentals for special occasions and corporate events in South Florida. Their portable photo booths provide entertainment, professional-quality photography, and a unique experience at events.