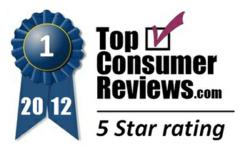 We're pleased to receive TopConsumerReviews.com's highest rating... Thank you for recognizing our hard work!
Overland Park, KS (PRWEB) February 29, 2012
TopConsumerReviews.com recently awarded their highest five-star rating to Kolo, an industry leader in photo book companies.
"We're pleased to receive TopConsumerReviews.com's highest rating," said Kolo Spokesperson Kate Costello. "You can choose one of our beautiful templates or start from scratch and let your unique ideas come to life. The possibilities are endless with Kolo's powerful and easy website. Kolo has become the world's leading brand of luxury photo presentation and storage products. We use high quality materials, such as premium archival paper milled with artesian well water for purity, fine tightly woven book linen, and soft Italian leathers. Thank you for recognizing our hard work!"
Photo books have become a popular alternative to the traditional photo albums of the past. They allow people to upload digital photos in order to create lasting memories. Whether the event is a wedding, a new baby, a vacation, an anniversary, or any of life's events, a photo book can quickly and easily be created that will impress friends and family for years to come. Most photo book companies allow their customers to choose from a variety of sizes, templates, covers, and even add captions and comments if so desired.
"Kolo offers the best selection of photo books available," explained Brian Dolezal, of TopConsumerReviews.com. "In business since 1998, Kolo has sold millions of well crafted, beautiful photo books to satisfied customers. These photo books are built with top quality materials and can preserve memories many years to come. Their expandable photo books allow you to add pages over time, which is a flexible feature we really liked. If you're looking for a beautiful photo book that will preserve your memories and last a lifetime, Kolo should be your first choice."
To find out more about Kolo and other photo book companies, including reviews and comparison rankings, please visit the Photo Books category of TopConsumerReviews.com at http://www.topconsumerreviews.com/photo-books/.
About Kolo
At Kolo, we have a strong passion for photography and the presentation of photography via books. Big books or small, the power of pictures and the books that hold them is what consumes us. Photographers, artists and other creative professionals were the first to discover Kolo. Behind every life, there is a great story. What's your story?
About TopConsumerReviews.com
TopConsumerReviews.com is a leading provider of independent reviews and rankings of hundreds of consumer products and services. From credit repair programs and elliptical machines, to flowers and hair loss treatments, TopConsumerReviews.com delivers in-depth product evaluations in order to make purchasing decisions easier.
# # #