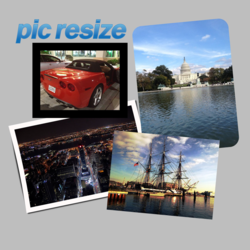 With these new special effects, PicResize.com is now starting to do on the Internet as a web site, what Instagram has been doing only on iPhones and Androids exclusively
Boston, MA (PRWEB) August 22, 2012
For the past 7 years photo editor website, PicResize.com, has introduced free tools that help people resize and crop their pictures easily on the Web. Today, PicResize.com continues the tradition with the introduction of new special effects that a user can easily add to their photos such as borders, shadows, filters and more. The free web site has grown to become one of the most popular online image editing tools on the Web with more than 30 million pictures processed.
"The new set of special effect features at PicResize.com continues the tradition of innovation that our users have come to expect," said Nich Wattanasin, founder of PicResize.com and owner of InterNich LLC. "Having been among the first free picture editing tools on the Internet since 2005 and competing with a number of clones, we have continued to refine our user interface and add value-added features to PicResize.com to give our users a much better experience, all the while keeping the web site completely free to use."
The new set of special effects includes 'Rounded Corners' giving anyone the ability to add rounded corners to their pictures with a few mouse clicks, or 'Polaroid' which morphs any photo into the favorite 70's-instant-film-photography look.
Anyone can now go to PicResize.com's website, resize and crop their photos, and add special effects, all in a few minutes, for free.
"With these new special effects, PicResize.com is now starting to do on the Internet as a web site, what Instagram has been doing only on iPhones and Androids exclusively," explains Wattanasin. "When a user is done, they can share their edited pictures on Facebook, Pinterest, Twitter and other social networks with one click."
For more information on PicResize, or to use the free, online tool to easily edit photos, go to http://www.PicResize.com
About InterNich
InterNich LLC is an online media publishing and solutions company founded in 2005. They specialize in Internet product development, both creating and operating their own popular web sites, including PicResize.com, serving more than a million visitors per month. Additionally, a number of their web sites have been featured in PC Magazine, Macworld and other publications around the world.
Contact:
Nich Wattanasin
PO Box 5851
Boston, MA 02114
1-877-873-3336
nich(at)nich(dot)net