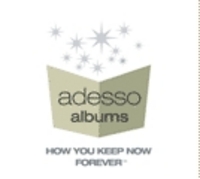 Since 2002, Adesso Albums' Instant Photo Guest Books have been a part of over 50,000 events
San Francisco, CA (PRWEB) February 15, 2011
After almost 10 years of providing its unique instant photo guest books to consumers around the world, Adesso Albums today announced that it will close its virtual doors. The Company plans to sell its remaining inventory of albums at liquidation prices through the end of February on its website (http://www.adessoalbums.com)
"Since 2002, Adesso Albums' Instant Photo Guest Books have been a part of over 50,000 events," said Lesley Mattos, Founder and President of Adesso Albums. "We began our relationship with most of our customers at their wedding, and their Adesso Albums became such a treasured keepsake that they made one part of all of their celebrations - baby showers, parents' anniversaries, siblings' graduations, birthday parties, retirements, even memorial services."
"That said, events and economic conditions over the past three years which were out of our control - Polaroid's exit from the instant camera and film market, the transition to the little known Fuji Instax instant cameras and film, and the economy in general - have resulted in declining revenues," Mattos continued. "It is with great sadness that we must now discontinue operations."
"Ralph Waldo Emerson once said, 'What lies behind us and what lies before us are tiny matters compared to what lies within us,'" Mattos concluded. "What lies within us as we turn the final page of the Company's history today is a great sense of pride in having brought a product to market that captured so many memories for so many people at so many events. Adesso Albums will live on in our customers' lives for generations to come and that is a legacy that we are very proud to have built."
For more information, contact:
Lesley Mattos, President
Phone: 415-957-9901
Visit: Company Website
# # #