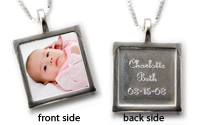 The result is personalized jewelry steeped in meaning and unique in the marketplace.
San Francisco, CA (PRWEB) September 17, 2008
kathy lo rocks, LLC a leading designer and manufacturer of custom keepsake jewelry announces the introduction of Custom Photo + Engraved Message Necklace, a unique way to celebrate a memorable occasion. Consumers can now customize double sided necklaces with a photo one side and an engraved message on the reverse. This combination is heirloom jewelry that is meaningful for both the gift giver and the wearer.
Custom Photo Jewelry is a wonderful way to commemorate a significant occasion and also makes a thoughtful gift. Customers cherish photo jewelry items created with their own photos because these pictures hold special meaning whether they feature a milestone event, a treasured moment, or a beloved person. An engraved message in combination with these pictures enhances a jewelry item's significance.
"We had many customers request if they could add a message or quote to the back of their Custom Photo Necklaces and Custom Photo Charms; thus we developed a reversible pendant that enables us to seal a photo one side and engrave a message on the other," comments Kathy Loewenstern creator of kathy lo rocks. "The result is personalized jewelry steeped in meaning and unique in the marketplace."
Custom Photo + Engraved Necklaces are ideal jewelry gifts for commemorating a birth, a marriage, or as a tribute to someone who has departed. Some customers choose a picture of a newborn on one side and the baby's name and birth date engraved on the other. Another popular example is a Memorial Necklace featuring a photo of someone who has departed and a special message on the reverse side. These Tribute Necklaces help customers find solace and comfort. Many couples create Wedding Necklaces by choosing to display their wedding photo on one side and engrave the marriage date on the reverse. kathy lo rocks provides three sizes of the Custom Photo + Engraved Necklaces; the photo necklaces are waterproof so they can be treasured for generations.
About kathy lo rocks, LLC
kathy lo rocks is a small but fierce organization dedicated to improving women's lives through better jewelry. kathy lo rocks enables customers to commemorate and celebrate special moments with custom keepsake jewelry at the website kathylo.com. The company also offers wholesale jewelry collections which can be found in over 400 galleries, boutiques, and museum stores in the United States.
###