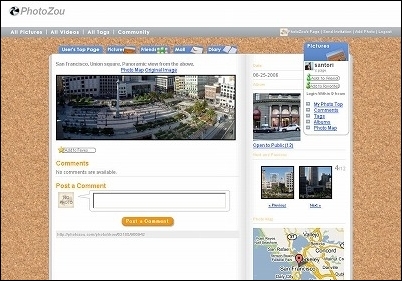 Tokyo, Japan (PRWEB) August 9, 2006
Unoh Inc. (Japan) has released PhotoZou in English. PhotoZou (http://photozou.com/)], an online photo sharing community featuring video clips and photos, has gained 60,000+ members in Japan with 4,000 photo and video uploads per day.
While masses of foreign websites are introduced and adopted in Japan everyday from all over the globe, it is not often that Japanese websites are translated and exported abroad.
PhotoZou, when written in Japanese, literally translates to "A Storehouse of Pictures." Thus, PhotoZou is an online website that features SNS functions, which allows users to share photos and videos up to 100MB. It allows members to divide known users into categorized groups in order to limit access to certain photos and videos. However, those photos and videos that are open to the Internet may be viewed by non-members as well.
Other Features of PhotoZou:
Photo Capacity of 100MB, Unlimited Video Upload
A whopping number of 10,000 photos may be uploaded and viewed. Uploaded video files are converted into Macromedia Flash and may be viewed by most browsers such as Internet Explorer and Firefox. Videos are played without delay and may easily be shown on personal blogs and websites. Applicable formats include AVI, MPEG, MOV, and FLV.
Create a Community
Community is a place that allows PhotoZou members to come together by sharing something in common. For example, pet owners and animal lovers may build an Animal Community on PhotoZou to share tips, lovable episodes, and photos of their furry friends.
Mashup with Google Maps
By using Google Maps, uploaded photos and videos can be "mapped out" all over a world map to show where each image took place and to get a sense of place in a bigger picture.
PhotoZou is brought to you by Unoh Inc., a Japanese corporation that believes in creating solutions that are equally entertaining and constructive. The company already boasts Japan's biggest Movie Information website, "Eiga Seikatu" and are proud producers of Internet and Media solutions by using their right brain or "unoh" in Japanese.
Join PhotoZou today, the photo sharing community where members share video clips and photos. For more information please contact:
Unoh Inc.: Shintaro Yamada, CEO
Telephone: +81-3-5766-3911
http://www.unoh.net/en_index.html
Unoh Inc.
3-13-11 Shibuya TK Bldg. 8F
Shibuya Shibuya-ku Tokyo, Japan
150-0002
###