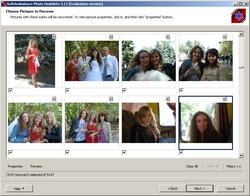 SoftAmbulance Company announces the release of Photo Undelete, an end-user tool to recover lost and deleted pictures in a variety of formats.
Seattle, WA (PRWEB) May 20, 2010
SoftAmbulance Data Recovery Company announces the release of Photo Undelete, an end-user tool to recover lost and deleted pictures in a variety of formats. A signature feature of Photo Undelete is the ability to work with images stored on healthy and damaged hard drives, solid-state media such as flash memory cards and USB sticks, as well as digital pictures located in digital cameras' built-in memory.
About Photo Undelete:
Photo Undelete offers users an easy way to retrieve lost and deleted images and digital pictures in dozens of formats. Supporting all popular image formats such as JPEG, GIF, TIFF, BMP and PNG, Photo Undelete can recover raw images produced by most modern digital cameras as well as video files in AVI and MOV formats. The support of RAW formats makes Photo Undelete usable to professional photographers shooting digital SLRs, while its fully guided wizard-based user interface makes the product accessible to all kinds of computer users.
Photo Undelete can recover digital pictures from a corrupted memory card, and can work with digital cameras directly via a USB cord. Even if a memory card or camera's internal memory has been formatted, Photo Undelete can still successfully locate and recover pictures.
Photo Undelete comes handy in a variety of situations, from one deleted picture to complete hard drive failures. The image recovery tool includes convenient, step-by-step user interface that guides users through the entire recovery process. There's no learning and trying involved in using Photo Undelete. A few clicks engage a file system scan or a thorough check of the entire storage device in order to locate as many missing pictures as possible. Once discovered, images are conveniently organized accompanied with thumbnail-size previews; yet another click displays a full-size preview available in both free and full versions of the product.
Photo Undelete works in all 32-bit and 64-bit versions of Windows since Windows 95, including Windows 98, NT4, ME, 2000, XP, Vista, Windows 2003 and 2008 Server and the latest Windows 7. Photo Undelete can recover pictures from all revisions of FAT and NTFS file systems used on fixed and removable storage devices, and supports all types of hard drives, memory cards, USB sticks and other types of storage media.
About SoftAmbulance Data Recovery Company:
Founded in 2005, SoftAmbulance Data Recovery Company delivers general use and specialized data recovery tools computer users worldwide. The company strives to serve every client, and makes its data recovery products accessible and easily usable. SoftAmbulance Data Recovery Company developed step-by-step usability that makes its products go without a steep learning curve. The company's current range of data recovery solutions includes tools for repairing hard drives and partitions, undeleting files and folders, repairing email databases and recovering lost and deleted images.
Free evaluation version of Photo Undelete is available at http://softambulance.com/download.php.
###