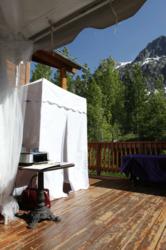 Peekaboo is truly your premier photo booth rental company and our client satisfaction is the driving force of our success.
Winter Park, FL (PRWEB) April 20, 2012
Peekaboo Photo Booth is pleased to announce the celebration of its first anniversary in New York City and the surrounding areas. To show appreciation for its customers, the company is offering $100 off many of its products and services through the end of April. Customers can use the discount on everything from full color printing to personalized scrapbooks to CDs of their photos. The anniversary special gives people the perfect opportunity to incorporate Peekaboo Photo Booth into their next social gathering. New York photo booth rental business has continued to climb with increased popularity and Peekaboo's stellar reputation.
"Peekaboo Photo Booth is very excited to complete its first year of operation in New York, and we look forward to continuing our service to the area," said Owner Andrew Birr.
As indicated by its name, Peekaboo Photo Booth is a self-contained photo station that customers can rent for a variety of events, including weddings, birthdays, bar/bat mitzvahs, quinceaneras and private parties. Companies can also incorporate Peekaboo Photo booths into meetings, retreats and other corporate outings. "Peekaboo Photo Booth provides a stylish, fun way for people at any social event to capture the moment," Birr said. Photo Booth Rental has exploded as a nationwide trend.
Peekaboo Photo Booth offers white cabana-style booths that make a nice complement to almost any environment and occasion. At 5 feet by 5 feet, the booths are spacious enough to accommodate up to 13 people. Each booth is equipped with a high-definition camera that takes high-quality photos. Guests can choose from a variety of layouts and backgrounds, and then print their customized photos in black and white or color. They can even brand their photos with a company logo. All photos can be instantly uploaded online, where they can be shared with family, friends and associates.
To use a Peekaboo Photo Booth location, guests simply step inside, sit down and push a button to begin taking photos. A live video display helps ensure the perfect pose and guides them through the photo session. Afterward, guests step outside the booth and collect their customized photo strips. Each booth comes with a photo technician to help guests, if they need assistance, with their photos.
Peekaboo Photo Booth offers more than a portable place to produce photos; it provides an active source of amusement and entertainment that makes events more special. Not only does the company generate beautiful pictures, but it also creates fond memories that guests will cherish for years to come.
For more information, please visit http://www.peekaboophotobooth.com or contact Andrew Birr at 1-800-752-2313.
About Peekaboo Photo Booth
With more than five years of experience, Peekaboo Photo Booth has completed more than 1,000 successful events. The company offers classy, cabana-style booths that are easy to set up and simple to use. Based in Winter Park, Fla., Peekaboo Photo Booth is a privately-owned firm that offers services nationwide. In addition to operating in the New York City area, the company also has a presence in the following metropolitan areas: Orlando, Tampa, Miami, Los Angeles, San Francisco, San Diego, Phoenix, Houston, Dallas, Chicago, Washington D.C., Philadelphia, Boston, Atlanta, Seattle and Detroit. Peekaboo Photo Booth has been in the Photo Booth Rental Business for over 5 years and celebrates a nationwide footprint.