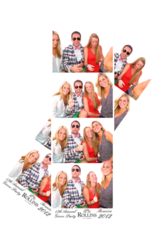 At Peekaboo our focus is on ensuring our customers' event goes great and the attendees have a terrific time.
Tampa, Florida (PRWEB) November 22, 2012
Tampa holiday parties are more than eggnog and Santa hats. They are a chance for friends and coworkers to reunite in a social atmosphere and kick off the holiday season together while looking back on the year.
Fortunately with modern technology there is a solution to capture the holiday fun and cheer forever, namely portable Photo Booths. Photo Booths have been a steeply rising trend over the past few years at weddings, birthday parties, and other popular events, however, now is the perfect time to rent your own photo booth.
Andrew Birr from Peekaboo Photo Booth in Tampa, Florida states "Photo Booths are a perfect solution for holiday events. From a corporate party aspect they enable coworkers to take candid pictures with each other, build camaraderie, and relationships. From a private party perspective it is a perfect item to add some extra flare to any party and provides an instant memorable keepsake that your friends and family will remember forever."
With the sudden explosion in the Tampa photo booth rental business rental companies tend to book up quickly for the holidays. "Typically we start receiving calls in November for Holiday and New Year's Eve parties, however, we receive plenty of requests up to a year or more in advance."
Additionally renting a photo booth is a simple process, typically companies arrive, setup, assist, and take down the photo booth after the event. "At Peekaboo our focus is on ensuring our customers' event goes great and the attendees have a terrific time. All we need is for the party host to tell us where to set up and we are ready to go"
About Peekaboo Photo Booth
With more than five years of experience, Peekaboo Photo Booth (http://www.peekaboophotobooth.com/) has completed more than 1,000 successful events. The company offers classy, cabana-style booths that are easy to set up and simple to use. Based in Winter Park, Fla., Peekaboo Photo Booth is a privately-owned firm that offers services nationwide. In addition to operating in the Tampa area, the company also has a presence in the following metropolitan areas: Orlando, Miami, Phoenix, Los Angeles, San Francisco, San Diego, Houston, Phoenix, Washington D.C., Philadelphia, Boston, Atlanta, Seattle, Chicago, and Detroit. Peekaboo Photo Booth has been in the Photo Booth Rental Business for over 5 years and celebrates a nationwide footprint servicing both private and corporate events.