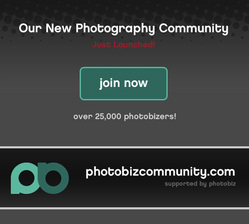 flat screen TV to one lucky new member. A random
Greensboro, NC (Vocus) July 3, 2010
2010 has been a phenomenal year for PhotoBiz.com and we are indebted to our wonderful customers. It is our desire that the new Photobizcommunity.com photography forum will benefit our customers and all photographers who may wish to join. This is our way to give back to the entire photography industry. Cutting edge social networking tools are integrated with each blog post and forum topic so that photographers can share particular information anywhere they would like.
The forum is moderated by photographers with amazing business, marketing and photographic expertise. We have great public speakers, social media gurus, seminar builders and business professionals with large and small studio experience. PhotoBiz.com has already had some of the industry's top professional wedding, family and event photographers contribute such as Brett Tyler, Michelle Moore, John Edgar, Hiram Trillo, Tessa Rice, Maïa Taïeb, Walter Van Dusen and Jen Shannon. With PhotoBiz.com members located around the world, there is the potential for a truly international flavor to the forums. In addition to the United States there are community members located in Canada, Mexico, The Caribbean Islands and Brazil we cover most of the Americas.
For Europe PhotoBiz.com members are from the United Kingdom, France, Spain, Italy, Greece, Switzerland, Germany, Poland, Sweden and Norway. We have a large contingent of customers in Australia with some in New Zealand, South Africa, Japan, Korea, Hong Kong and a surprising number from Singapore. All of our customers will be notified when Photobizcommunity.com is launched and we believe that most will want to participate.
The new Photobizcommunity.com opens to a "What's Happening" page that features the latest PhotBiz.com Blog and forum entries with links that can be shared or tweeted. Also on this page are continuously updated Twitter and Facebook feeds. Facebook Share and Retweet functions are a major highlight as it represents cutting edge social networking tools. This will be unique to any other photography forum though similar to Facebook's news feed, the front page will inform members of what is going on "Right Now". It will be simpler than ever to stay connected with PhotoBiz.com and with members that correspond with us.
Forums are the most important section to the new PhotoBiz Community. This is where photographers can post new topics and reply to existing topics within the community. They can feel free to ask questions, discuss topics and news, share ideas and network with other professionals. Most importantly, we encourage you to share these posts with your friends and connections through the social networking share buttons.
There will be a forum for photographic gear and equipment with the subjects of camera bodies, lenses and lighting equipment. More important than ever is managing and using Social Networking to promote and interact with the photographer's customer base. The forum will start with Facebook, Twitter, LinkedIn and Flickr as these are the most popular social networks.
Another great feature of the forums page will be a Website Critique "Rate My Site" where members can post a link to their website and have others rate, critique, and offer CONSTRUCTIVE feedback.
A Community Calendar page will be included for the site. Participants can add a single event, add recurring events and add ranged events for up to five years in the future by emailing us with your request. Dates will be set for Tradeshows, workshops, events and for other subjects of interest to photographers. Finally there will be a Members page that lists all of the members that have joined the PhotoBiz Community. No personal data will be displayed but members can be added as a friend, sent a personal message and followed through their posts.
There is no cost to join and membership to Photobiz.com is not required. It only takes a couple of minutes to register. Members get these benefits and more. Start new topics and reply to others. Subscribe to topics and forums to get automatic updates. Contributors can add events to our community calendar. Get your own profile and make new friends.
As part of the launch of Photobizcommunity.com we will offer a special incentive to entice new members to join. PhotoBiz.com will award a 42" flat screen TV to one lucky new member. A random "drawing" will be held 15 days after the launch from all of the members that have joined.
Passionate Support : Guaranteed Satisfaction!
For more information about PhotoBiz.com, or to get started using the new Photobizcommunity.com, visit PhotoBiz.com or visit us on Facebook at photobizfanclub.com.
###