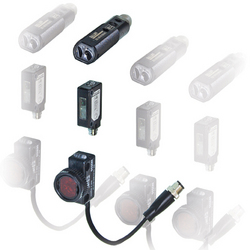 Florence, KY (Vocus) April 16, 2009
Balluff is introducing a new series of basic photoelectric sensors that will simplify the entire process of specifying photoelectric sensors. Balluff's GlobalEye™ series includes three different form factors: 18 mm threaded combination, small block, and standard 18 mm tube, each of which is available in background suppression, diffuse, retroreflective, and thru-beam models. Easy to install and simple to choose from, these sensors will not only provide reliable solutions in countless everyday applications, they will also greatly simplify stocking and maintenance procedures.
One of these sensing modes will work in almost all general duty applications:
Background Suppression sensors are able to sense targets and ignore objects behind them. Diffuse sensors sense the target when it reflects light back to the sensor. Retroreflective types acquire an object when it blocks light coming back to the sensor from a reflector. Highly reliable Thru-beam sensors have an aligned emitter and receiver. The sensor is actuated when a target passes between the emitter and the receiver and blocks light going to the receiver.
For further information, visit: http://www.balluff.com/globaleye
Editors: For a high resolution copy of this visual, go to:
http://www.balluff.com/Balluff/us/NewsChannel/Press+Releases/en/2008-10-GlobalEye+Press+Release.htm
Balluff Inc., the U.S. subsidiary of Balluff GmbH, Neuhausen, Germany, is a leading manufacturer of a wide range of inductive, optical, capacitive and magnetic sensors as well as linear position transducers and ID systems. Balluff products for OEM and factory floor solutions are used to control, regulate, automate, assemble, position, and monitor manufacturing, assembly, and packaging sequences for industries including metalworking, automotive, plastics, material handling, wood processing, aerospace, electrical, and electronics.
Editors: please contact Vestal Simms or Kelly Panko at 1-800-543-8390 for clarifications and additional information
Direct reader service inquiries to:
Press Manager
Balluff Inc.
8125 Holton Drive
Florence, KY 41042
1.800.543.8390
http://www.balluff.com
In Canada only, contact Norman J. Clarke, President, Balluff Canada, 2840 Argentia Road, Unit # 2, Mississauga, ON L5N 8G4, Phone 1-800-927-9654 or
Tel: 905-816-1494, 905-816-1411
###