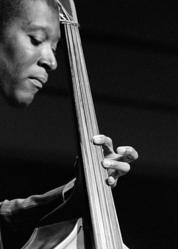 Photography has the ability to capture a moment in time and the potential to transport viewers emotionally right into the photograph
San Francisco, CA (PRWEB) September 28, 2011
Scott Chernis, a San Francisco photographer, is pleased to announce he will publish his Book of Jazz Images from Intersection for the Arts Jazz Series. The completed book should be out this coming winter with a targeted release date in early January 2012.
"Photography has the ability to capture a moment in time and the potential to transport viewers emotionally right into the photograph," said Kevin Chen, program director of Intersection for the Arts. "I've been curating and organizing the jazz at Intersection program since its inception in 1999, presenting more than 125 concerts with hundreds of musicians and have been working with Scott Chernis since 2001 to document these concerts."
Many vibrant musicians and composers have played a part in the jazz series for decades. After ten years of documenting the monthly jazz series both at the Intersection Theater on Valencia and in collaboration with the de Young Museum, Scott Chernis is now publishing his Book of Jazz Images. He has been shooting jazz in the Bay Area and New Orleans since leaving Tulane University in 1995, and now he is ready to share his remarkable work with everyone.
The Book of Jazz Images highlights the ten years of shooting at Intersection for the Arts, the jazz residencies at the Intersection Jazz Series and the images of those artists. Scott also works with SFJAZZ, Stanford jazz workshop, and many others.
For more information about Scott Chernis' services, call 415-290-2363 or visit http://www.scottchernis.com.
About Scott Chernis
Scott Chernis is a San Francisco Bay Area professional photographer, who specializes in graduations, food, jazz and performance and event photography. He works throughout the San Francisco Bay Area.
###