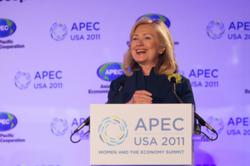 The APEC region is a vitally important economic partner with the United States and economies throughout the region participate in these high level talks
San Francisco, CA (PRWEB) October 20, 2011
Scott Chernis, a San Francisco photographer was chosen to be the official photographer of the 2011 Asian Pacific Economic Cooperation Third Senior Officials meeting in San Francisco last September. The opportunity to work with the U.S. Department of State was an honor for a professional photographer like Chernis.
"The APEC region is a vitally important economic partner with the United States and economies throughout the region participate in these high level talks," said Chernis.
The APEC 2011 Officials Meeting was an important event for the state. High level cabinet members of the U.S. Government and their foreign counterparts were in attendance at the event. Secretary of State Hilary Clinton was present at the meeting and gave a keynote address at The Women and The Economy Summit. Secretary of Energy Steven Chu and Secretary of Transportation Ray LaHood chaired the Joint Transportation and Energy Ministerial Meetings, while Secretary of Health and Human Services Kathleen Sebelius held bilateral meetings and presented a keynote on Health and Innovation.
With this very important meeting attended by highly regarded public figures, it was necessary to have a professional to cover the event and produce proficient shots of its happenings. Chernis' photographs of the event were widely used by the U.S Department of State, distributing them throughout the world to International press. The event added to Chernis' experience in covering a wide range of events from VIP receptions and large press events to closed door signings and group photos.
For more information about San Francisco photographer Scott Chernis' services, call him at 415-290-2363 or view his work by visiting http://www.scottchernis.com.
About Scott Chernis
Scott Chernis is a San Francisco Bay Area professional photographer that specializes in graduations, food, jazz and performance, and event photography. Scott Chernis serves the San Francisco Bay Area.
###