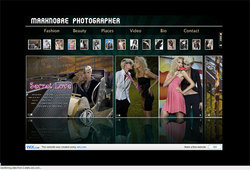 Photographers are creative minds, and enjoy the full freedom of expression awarded by Wix' fully customizable web design.
New York, NY (PRWEB) July 29, 2010
Wix.com is a free website builder that provides everything a photographer would need in order to create viable web presence. Over 1 million free photography websites have been created using the Wix platform, as more and more creative professionals are turning to Wix for their online promotional needs.
This is due to a ton of features built into the Wix platform particularly suited for photographers:
1. Visual Appeal
If a picture is worth a thousand words, animated photo galleries with customized design elements are priceless. With Wix, you can choose from a wide variety of gallery styles, including Slideshow, Carousel and According. Set your gallery to Autoplay and gain the full "wow" effect of Flash web design. Capture the attention of your visitors the moment they enter your site.
2. Ease of Use
The Wix website builder is a drag-and-drop editorial tool. So all creative energy may be spent on the site's look and feel, rather than computer code. Uploading your own photos is as easy as a few clicks. Customizable buttons can be set up to link to Flickr, Fotolia and any other location on the web.
3. Free Photography Templates
Wix has an extensive gallery of free photography website templates that were designed specifically for photographers. Everything in a Wix template is fully customizable – even the menu labels. Users can replace template "About", "Portfolio" and "Contact" pages with their own content, as well as add, remove or relabel pages.
4. Fully Customizable
Photographers are creative minds, and enjoy the full freedom of expression awarded by Wix' fully customizable web design. Everything inside Wix can be adjusted from the amount of web-pages to image-filled buttons. Items like clip art, icons and even photos can be linked to other places on the web, like e-mail, or reviews.
5. Search Engine Friendly
Traditionally, Flash websites have not been the easiest for search engines to locate, but Wix was built to change all of this. Xml files are built into each Wix site, that feed HTML code directly to the search engines. This provides a viable solution to creating brilliant web design that is seen at the top of Google searches.
6. Site Updates Made Instantly
Photographers reinvent themselves on a regular basis. The market shifts, inspirations die out and new ones are born. New projects are developed and fresh work is created. Users can enter their web documents at any point, make their changes and press Save. The changes are instantly and automatically applied to the published version of the site.
7. With Wix a Photographer is Never Alone
Wix offers a bustling community of creative professionals and networks built especially for photographers. The Wix Photography Blog produces constantly churns out tips and tricks. From photography tutorials to the latest Wix features, the Photography Blog keeps users informed. As soon as a new feature is added to Wix, the Facebook fan page and Twitter account shout it from the virtual mountaintops.
8. Promotional Opportunities
Wix provides several platforms for photographers wishing to present their work to the World Wide Web. Photographers are invited to submit work to get featured inside a Wix Photography Blog post. Photographer websites are also featured prominently on the Wix homepage, as winners of the daily Wix of the Day competition - a tremendous opportunity to boost site visibility.
9. eCommerce
Photographers may sell work directly from their Wix websites with the Shopping Cart widget found inside the website builder. Visitors may select items to place inside their cart, and can even purchase directly through a connection to PayPal. Upgrading to an eCommerce premium package is required to run a profit, and to make a Shopping Cart widget fully operable – but Wix takes absolutely no cut of the profit.
10. Affordability
A website with Wix is free. No set-up fees and no commitment. Photographers wishing to gain an extra professional edge can create a free photography website, and upgrade to a premium package to gain access to extra features like domain ownership, and to track online visitors with Google Analytics. There are many premium packages to choose from with flexible pricing options. But all of the website builder's tools and web design are royalty-free.
About Wix
Wix.com is located in New York, with offices in Tel Aviv. The company was founded in 2006. Wix is backed by Mangrove Capital Partners and Bessemer Venture Partners.
# # #