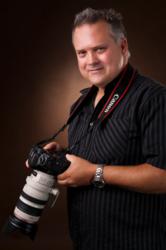 I'm delighted that one of my Western Australian images recently received an award from the AIPP
(PRWEB) August 22, 2012
Solo exhibitions for photographers are often considered to mark the artist's coming of age. A third solo exhibition for Australian, David Phillips, just announced, points to his maturity as a photographic artist.
The exhibition, entitled 'Capturing Light', will be displayed in a new photography exhibit at the Mackay Regional Botanic Gardens Lagoons Gallery from August 29, 2012.
Mr Phillips, a member of The Australian Institute of Professional Photographers (AIPP), has lived in the Mackay area of Queensland for 22 years, after growing up in the small Queensland town of Duaringa. He is well known for instilling his love of the Australian landscape into his photographic art.
The exhibition combines images from the local area, with those taken in The Kimberley region of Western Australia, under the mentorship of one of Australia's leading landscape photographers, Ken Duncan.
"The time I spent with Ken in Western Australia has had a dramatic impact on the way I capture and interpret the landscape" said Mr Phillips. "I'm delighted that one of my Western Australian images recently received an award from the AIPP."
Mr Phillips says the diverse Mackay area is daily inspiration for photographers like himself.
"From the blues of the Whitsunday Passage, to the deep greens of the timeless Eungella National Park, through to the reds and browns of the rugged of the Bowen Basin - there is beauty at every turn."
Exhbition Details:
'Capturing Light' by David Phillips
From August 29, 2012
Mackay Regional Botanic Gardens
Lagoon Street
Mackay, Queensland Australia
About David Phillips
Photographer David Philips is a talented photographer whose love for the land gives him the inspiration to produce unique Australian landscape photography. David was born and raised in outback Queensland, to which, he says, he owes his keen eye for landscape perspectives, and an inherent respect for the environment.
His love for Australia's beautiful, yet often rugged, geography translates into outstanding landscape photography that will capture your heart – even take your breath away.
David also appreciates the beauty in you. He is a skilled portrait photographer, known for capturing both the inner and outer beauty of his subjects.
His acute sense of artistry and his love of nature shines through whether it is a glamour photography session, a Cherish Artz boutique photography session, or a strong, silent landscape in Australia's outback.
More information about David Phillips is available at CherishArtz.com/artist