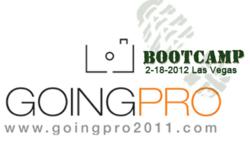 Las Vegas, NV (PRWEB) December 15, 2011
GoingPro Bootcamp is scheduled for February 18 in Las Vegas. Loaded with information about the business and marketing of professional photography, this one day event has become the standard in launching a career in professional photography.
Maintaining a reputation for outstanding education, the GoingPro founders, Scott Bourne and Skip Cohen, also teaching at the GoingPro Bootcamp, have added Michelle Celentano to the team!
"We're excited to have Michelle join us. Her experience is remarkable, but even more impressive is her style. She's one of the best presenter's in professional photography and her trademark is just being herself, candid and honest about all her experiences in business," commented Cohen.
Michelle has been a photographer for twenty-one years and is based in Phoenix. Her work has been published in Rangefinder, American Photographer and Shutterbug, just to name a few. She is a Canon Explorer of Light and actively teaches at various conventions around the U.S.
"Her marketing skills are outstanding. She's constantly looking for ways to reinvent herself in the Arizona market," Skip Cohen went on to further comment.
The GoingPro phenomenon started almost two years ago and today the blog is followed by approximately 50,000 professional photographers. The blog has a new post five days a week and a new podcast is broadcast every ten days. The book, GoingPro, was released by Random House in October and has been on the best seller list for photography books at a variety of websites, including Amazon since it's launch.
A big part of the GoingPro success story relates to the quality of its sponsors. Sponsors of GoingPro will also be participating in the Bootcamp event, side by side with the attendees, giving them a chance to build their networks and get to know more about each company and the wealth of support available to them. Sponsors include some of the finest and most proactive companies in photography: Album Epoca , Animoto, Adorama, AsukaBook, Bay Photo Lab, Dynalite, Kubota Image Tools, Photofocus.com, Skip's Photo Network, Skip's Summer School, SmugMug and 3Exposure.com.
Interested in finding out more about GoingPro? The blog is loaded with great content at http://www.GoingPro2011.com and registration for Bootcamp is just a click away!
For more information on GoingPro contact Scott Bourne at scottbourne(at)mac(dot)com or Skip Cohen at skip(at)mei500(dot)com.
# # #