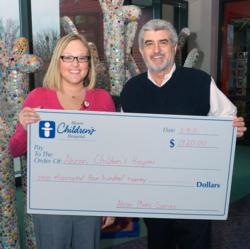 Akron, Ohio (Vocus/PRWEB) March 15, 2011
"I was frustrated that so many major photographic programs always seemed to take place outside of Ohio! So, I just decided to launch my own series!" commented photo industry executive Skip Cohen.
With Photoshop Hall of Famer, Eddie Tapp and Graphic Authority spokesperson, Judy Host, coming up April 11 and 12, the Akron Photo Series has established a unique presence for educational photographic programming. The monthly workshop series is bringing to the Midwest some of the finest and most popular instructors in professional photography.
"Programming like this takes a lot of work. Fortunately, we have some great partners with two local companies, Albums Inc. and Dodd's Camera. They're helping us get the word out each month prior to every program. Plus, attendees have a chance to see the very best in new album designs and new products at each event!"
Clay Blackmore, Doug Gordon and Bambi Cantrell have all participated in programming that began last October. In addition to Eddie Tapp and Judy Host, programs currently on the schedule include branding and social media genius, Jasmine Star on March 29, Adobe Evangelist, Julieanne Kost on May 23 and 24, and the "Rockstar of Weddings" Jerry Ghionis on June 13 and 14. Many of the programs are two-day events designed to offer a larger group an evening workshop and, for those seriously interested in a more intense in-depth experience, a 9:00 - 5:00 hands-on program the following day.
"Best of all, we're raising money for Akron Children's Hospital while providing photographers with the very best in educational events!" said Cohen after recently making the event's third donation to the hospital.
Cause-related programming is not new to Cohen. He's been active in charitable causes most of his professional career. His best known fund-raiser was selling Ansel Adams' camera gear to "shock-jock" Don Imus, for $100,000 with the proceeds going to the Elizabeth Glazer Pediatric AIDS Foundation. A few years earlier, again for charity, it was Ansel Adams' 1977 Cadillac on the auction block.
For more information on the Akron Photo Series visit http://www.AkronPhotoSeries.com or contact Skip Cohen directly at skip(at)mei500(dot)com.
###