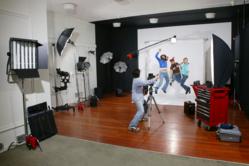 San Francisco, CA (PRWEB) May 16, 2013
Adolph Gasser Photography, a well-known camera shop in the Bay Area, is happy to announce their student specials on studio rentals for the month of May. They would also like to encourage customers to check out their photofinishing lab services.
Studio rental rates are $150 for four hours and $250 for eight hours, but currently Adolph Gasser is offering the special student rates of $75 for four hours and $150 for eight hours. In addition to these great rates, they will also be giving 50 percent off the daily rate for any equipment rented while using the studio, which includes lights, cameras and lenses.
They would also like to encourage customers to check out their photofinishing services. Their lab can process and print 35 mm film up to 120 and 220 color and black and white print films (C-41 and E-6). They also scan and print images. Their price lists can be found at http://www.gassersphoto-sf.com/photoLab.html. The list can be found at the bottom of the page.
Adolph Gasser Photograph also has a convenient online portal to help customers get started with photo printing. Customers can upload photos for printing, share prints, create cards, calendars, photo gifts and books. To get started, visit: http://www.gassers.lifepics.com/Default.aspx
About the company:
Serving the San Francisco Bay Area since 1950, Adolph Gasser Photography is a San Francisco camera shop, audio/video store, photography lab, and camera rental house. Adolph Gasser has been a popular store among photography professionals and hobbyists for still and video cameras, lighting, and motion picture equipment. The rental department offers a large variety of equipment that is available for rent prior to actually purchasing it. The shop is located at 181 2nd Street, San Francisco, Calif. 94105. For more information on all the services Adolph Gasser Photography provides or to check out their rental cameras and equipment, please visit their website at http://www.gassersphoto-sf.com.