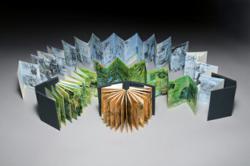 The LightRoom has been helping Bay Area photographers and other artists obtain the best prints of their images since 1975
Bay Area, Ca (PRWEB) September 09, 2011
The Light Room, a company that offers fine art printing and photography services to artists, also features the work of their many talented clients. For their Bay Area September show, they will showcase Glenn Nelson's work from several projects including The Indian Within, Affection, Paris and Eiffel. The show "Digital Sketches" will be up from Sept. 12 through Oct. 14. A reception will be held on Oct. 1, from 5 p.m. to 8 p.m.
Nelson's work constantly evolves into pieces that group naturally along visual themes but also fit into a larger whole of commentary on cultural icons that have been part of American heritage. Often, they are images photographed from the television and re-worked in Adobe Photoshop to put his stamp on them. The familiar faces and places are then printed, sometimes much larger than life size, so that the artifacts of the medium become an interpretation of the familiar that suggests to the viewer that, in the same way the print is not the same as the original image they are familiar with, perhaps their feelings about the person in the picture should not be confused with the actual person.
For more information about The Light Room and its products and services, call 510-649-8111 or visit http://www.lightroom.com. Their gallery is located at 2263 Fifth St. Berkeley, CA 94710.
About The Light Room
The Light Room has been helping Bay Area photographers and other artists obtain the best prints of their images since 1975. They have been offering the best of digital printing since the end of the last century, specializing in pigment inkjet printing in Berkeley. From film scanning to the preparation of any digital file to simply working with their own printer-ready files, they can help clients get the most out of their prints. If needed, they can also output digital files for printing on traditional photographic paper through their LightJet printer. They also showcase the work of their many talented clients at their studio gallery.
###