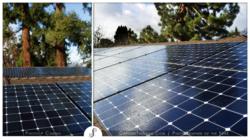 The new solar panels help us give back to the planet while bringing our power bill down—a real win-win!
San Francisco, CA (PRWEB) January 31, 2012
The recently renovated studio of Soo Photography is luxurious and inviting, with sunlight streaming in from the skylights, cozy furniture, and an elegant two-way fireplace. But it's more than just comfortable—it's also environmentally friendly, thanks to 28 new SunPower solar panels on the roof. Thanks to the new panels, the San Francisco photography studio will save money and reduce greenhouse gas emissions.
"With all the lights and equipment we need to use, photography shoots can suck up a lot of energy. But we believe creating a beautiful photograph shouldn't come at the expense of the natural environment," says Michael Soo. "The new solar panels help us give back to the planet while bringing our power bill down—a real win-win!"
The San Francisco photographer will save $300 a month in power costs, which adds up to a whopping $92,000 over the twenty-five-year life of the solar panels. But the environmental benefits are even more amazing. With 28 solar panels, Soo Photography is saving the amount of CO² absorbed by 3,400 trees or the equivalent of driving a car 354,000 miles. If a family that threw away everything started recycling, and twenty-five years later had saved 98,400 pounds of solid waste from ending up in landfills, that's the equivalent of how much energy Soo Photography is saving.
Soo Photography chose SunPower solar panels because the company has been around for over twenty-five years and offers the most efficient solar panels on the market. The panels sit low over the roof, and their sleek design makes them barely noticeable.
"We don't have to put in any extra effort at all," says Soo. "And whenever I want to see something that will make me smile, I can just pull up the SunPower app on my iPad to see how much energy we're saving."
To make an appointment to visit the newly redesigned studio, or for information about any of Soo Photography's services, call Michael Soo at (408) 666-8455 or visit http://www.soophotography.com.
About Michael Soo and Soo Photography San Francisco
Photographer of the Year Michael Soo is a San Francisco professional photographer who specializes in commercial, wedding, food, corporate, product, editorial, family, fashion, lifestyle, fine art, landscape, and portrait photography in San Francisco. He is also a wedding and love story videographer and director.
Brought up in Asia and educated in America, Michael fuses the best of both cultures in his art form. He gives back to the community by giving photography and Photoshop classes. He hosts free photography forums for over a thousand of active Northern California amateur and semi-pro photographers alike.
Named Popular Photography Magazine's Photographer of the Year, Michael Soo is an internationally respected photographer and guru of digital imaging. His collection of fine art and commercial photography includes executive portraits, lifestyle, products and food. His work has also been featured on numerous international magazine covers, newspapers (e.g. New York Times), as well as exhibits.
Soo Photography serves San Francisco and the Bay Area communities of Atherton, Belmont, Berkeley, Brisbane, Burlingame, Campbell, Colma, Corte Madera, Cupertino, Daly City, El Grenada, Foster City, Fremont, Gilroy, Hillsborough, Kensington, La Honda, Los Altos, Los Altos Hills, Los Gatos, Marin, Menlo Park, Millbrae, Mill Valley, Montara, Monte Sereno, Mountain View, Oakland, Pacifica, Palo Alto, Pescadero, Piedmont, Portola Valley, Redwood City, San Bruno, San Carlos, San Gregorio, San Mateo, San Francisco, San Jose, San Rafael, Santa Clara, Saratoga, Sausalito, Sunnyvale, Tiburon, and Woodside.
###