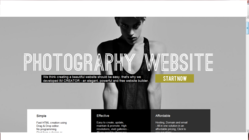 (PRWEB) February 14, 2013
Top-rated website builder IM Creator is expanding its excellent website building service with the introduction of a brand new photography template section that is bound to attract the interest of web designers and photographers of every genre.
IMCreator already offers a variety of top quality templates; this latest category, with its sophisticated new templates, will provide the website owner with even greater choice. A website that incorporates eye-catching relevant photographs is far more effective than one that looks as if it has been created with standard templates provided by the average website builder, and IMCreator's new collection will definitely make a website stand out from the crowd.
Photography is perhaps one of the most important elements of a website; more than text alone, photographs create that all-important first impression, and the best ones serve to keep the visitor engaged, rather than allowing him to wander off and look elsewhere. For website owners with products to sell they are a big part of his arsenal of tools, and photographers know just how essential they are when it comes to conveying a message, especially in sales. Having the facility to use professional well-crafted photography templates that complement what the website owner has to offer will give him the edge over the competition.
The Design Lab at IMCreator has been hard at work forging design-focused templates that make it easy for photographers to showcase their work in the best possible way. Each template is fully customizable, and users can insert their own content whether it be text, or pictures and videos; the layout can be changed and new elements added, so it is the perfect way to achieve a unique website that is tailor-made for its owner, and eye-catching to visitors.
IMCreator has a talented design team that continues to develop its website building service; the new photography template section, aimed at providing the photographer with the means to create a classy and polished platform for his work, is both innovative and inspiring.
Almost a million and a half users have created websites with IMCreator, so it has long been recognised as a leader in website building; with its brand new photography template section, it now has even more to offer.