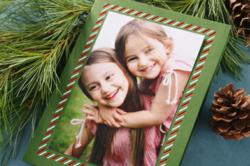 West Kennebunk, ME (PRWEB) November 09, 2012
With Thanksgiving being such a popular time for many families to take their annual holiday photo card portrait, William Arthur, makers of a popular line of high-end digital photo and photo-mount holiday cards, is posting photography tips on their blog http://blog.williamarthur.com/ and website throughout the month of November. The tips are offered in conjunction with their popular Buy 75/Get 25 Free Annual Holiday Photo Card Sale, which runs November 20th – December 1, 2012. The William Arthur Holiday Photo Cards collection, known for its rich processes and hand-applied embellishments, is also widely renowned for the fine photography featured on the luxury product.
"Every holiday season our customers and retailers rave about the photography we feature in our photo card albums," reports Susan Moseman, Lead Designer for the holiday lines. "Our photo cards are beautifully made, and the photos we feature on them make these products that much more special."
"We see so many great photo card orders come through our facility during the holiday season. It's an extremely busy time for us, with literally all hands on deck, tying bows, hand-lining envelopes and doing all the custom work that makes William Arthur and Vera Wang holiday cards so special. Part of the fun for us every holiday season is to see all the gorgeous photographs—professional and amateur alike—of happy families and how wonderful their photos look on our products."
With so many compliments on their use of great photography, William Arthur's marketing team felt it made sense to offer tips for getting a good family photograph for customers—and potential new customers—who forego hiring a professional photographer in favor of taking the family photo themselves. The six tips, illustrated with sample photos, include suggestions on setting, arrangement, color, focal points, point of view and cropping. The guide also provides advice on how to help keep subjects relaxed and smiling.
"It's about sharing love and quality," Ms. Moseman concludes. "Everyone wants a nice photo of their family to capture and share the love they feel, especially at this time of year. Sending a William Arthur photo card is a holiday tradition that many of our customers maintain year after year. A beautiful family photo on a finely crafted holiday card can be a gift unto itself."
ABOUT WILLIAM ARTHUR
William Arthur stationery, invitations, announcements and holiday cards are renowned worldwide for beautiful designs, substantial paper stock, rich embellishments and exceptional printing.
For more than 60 years, William Arthur's fine stationery products have helped people turn special moments and once-in-a-lifetime occasions into lasting memories. At their home in West Kennebunk, Maine, their craftspeople keep the techniques and traditions of fine paper and printing alive, combining time-honored print methods with state-of-the-art design and technology. Simply put, they are passionate about creating beautiful stationery. That passion is shared with their customers by providing exquisite products and extraordinary service. View their extensive collection at http://www.williamarthur.com. To find an authorized retailer, select the "Find a Dealer" link.