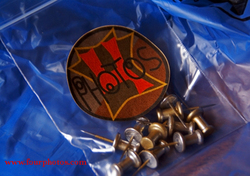 MySpace is wonderful for musicians, but there is nothing remotely comparable for a photographer
Austin, Texas (PRWEB) July 11, 2008
Photographer and web designer Josh McGrath took a different approach to the framing of photographs in Stage One of his recently released website by offering a sack of push-pins. Four Photos push-pins are solid aluminum with flecks of gold and a sack of ten will be provided with each print. Three further stages are planned with progressively more expensive framing contingent on the success of Stage One.
Josh McGrath, Owner of Four Photos, LLC, relocated to music obsessed Austin from the vibrant art world that is New York City and found the visual arts woefully under-served or just plain stodgy. Austin scenesters more often crave the latest confection for the ears rather than the eyes. With Austinites' disposable income and energy spent in the many classic live music venues, financial and time resources are drained away from the other art forms. Pounding the pavement for the opportunity to exhibit in the limited gallery space seemed fruitless to Josh so he nestled himself in front of his computer. To his chagrin, the Internet provided scattered resources and communities that left him feeling unsatisfied.
"MySpace is wonderful for musicians, but there is nothing remotely comparable for a photographer," said Josh, "Flickr is excellent for the photography "in-crowd", but it does not have much reach beyond that insular world. While photography certainly will never have the same pop culture cachet as rock and roll, it could desperately use some renewed vigor."
In response, he built his own website to display his prints using Adobe's animation program Flash. Flash is commonly used to create animation and other RIAs (Rich Internet Applications). It offers an alternative, textured Internet experience to the standard web-page and web-pages built with the software can be viewed by using a plug-in installed in most Internet browsers. Although his website is only for his prints, "I hope it will encourage other photographers and visual artists to take matters into their own hands and leverage the Internet, an essentially visual medium, more interestingly", Josh said.
About:
Four Photos, LLC (http://www.fourphotos.com) is a Texas Limited Liability Company formed in 2008 for the purpose of distributing Josh McGrath's photography via the Internet. The website provides affordable prints of animals, food, exteriors, interiors, nature, people and urban images. The checkout system was coded by Trequel, LLC (http://www.trequel.com).
###