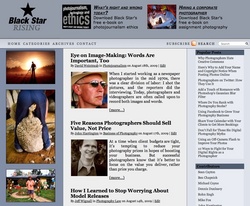 Black Star Rising is a group blog where we give our bloggers the freedom to write about issues of interest to them
New York (Vocus) August 19, 2009
With dozens of photographer contributors and thousands of RSS subscribers and Twitter followers, Black Star Rising, the group photography blog of the Black Star photographic agency, has emerged as one of the most-respected sources of news and commentary in the photographic industry. The blog recently celebrated its 600th published article.
To Black Star president Benjamin J. Chapnick, these accomplishments represent a continuation of the agency's commitment to photographers and photography clients, which have driven the company throughout its nearly 75-year history.
"Black Star Rising is a group blog where we give our bloggers the freedom to write about issues of interest to them," says Chapnick. "It's so difficult to establish a blog readership these days, and Black Star Rising's photographer contributors are gratified to tap into a large audience of their peers with every post. From the feedback we're received from contributors, we believe we are successfully advancing the Black Star tradition of mentoring and aiding photographers in their careers."
Arizona photographer Tony Blei, a former newspaper staffer turned freelancer, says contributing to Black Star Rising has provided a boost to his business. "Since I started writing for Black Star Rising, I have been interviewed in magazines and asked to speak at industry events," says Blei. "It's been great exposure that has significantly increased the profile of my business."
Adds Riverside, Calif., photographer Peter Phun: "I'm actually in awe of some of the talent that writes for Black Star Rising. Coming up with something valuable to contribute on a regular basis can be daunting, but I like the challenge. And I know the audience enjoys hearing from a variety of voices - all with different experiences and points of view."
If you are a professional photographer interested in contributing to Black Star Rising, contact Scott Baradell, the blog's editor, at scott(at)blackstar(dot)com.
About Black Star
Founded in 1935, Black Star is a New York City-based photographic agency that offers photojournalism, corporate assignment photography and stock photography services worldwide. Visit http://www.blackstar.com or the Black Star Rising blog at http://rising.blackstar.com .
###