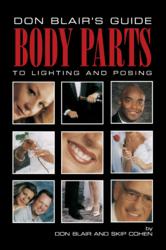 "The elements that help create great portraiture have never changed. This is about capturing stunning classic images!"
Sarasota, Florida (PRWEB) January 13, 2012
The elements for great portraiture haven't changed and nobody did it better than Don Blair. His professional photographer's handbook, "Body Parts" was a classic when it was originally introduced in 1999, but even more relevant today. The ingredients for great portraiture and dealing with Mother Nature's challenges haven't changed.
"We're excited to be working with Marathon Press and putting the original book back into print," commented co-author, Skip Cohen. "Although today a few things can be fixed in Photoshop, this is about everything the computer can't do!"
The challenge so many photographers face, especially those new to the professional market, involve creating beautiful classic portraiture. The key ingredients are great lighting, the appropriate pose, good expressions and in the end, exceeding each client's expectations.
The book includes dealing with the challenges of feminine versus masculine posing, eyeglasses, braces, tall grooms and short brides and the list goes on and on. Also included in the book is a great explanation on lighting techniques along with over a dozen lighting diagrams for some of Don Blair's most classic portraits.
"The book was originally designed to just tag along in a photographer's camera bag and we're keeping it exactly the same!" Cohen went on to comment.
It's expected to be available in early to mid-March at $39.95, but for a limited time is available at an advance purchase price of $29.95 plus shipping and handling. Photographers interested in reserving their copy of this classic can order on line at http://www.DonBlairsBodyParts.com.
Education was something Don Blair dearly believed in. Right up into his seventies he was not only teaching workshops on lighting and portraiture, but attending them himself. He was a solid believer you never stop learning and never stop strengthening your skill set. He may have passed away years ago, but the need to create the very best images is just as important today. Or, as Don at age 74 once said when asked, "What's the best image you've ever taken?" He responded, "I don't know I haven't taken it yet!"
For more information about Don Blair's Guide to Lighting and Posing Body Parts contact Marketing Essentials International at info(at)mei500(dot)com.
###