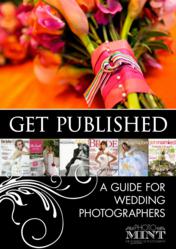 In these economic times, it's so important that small business owners arm themselves with a solid marketing plan for their business."
San Francisco, CA (PRWEB) September 28, 2011
For most photographers, having their images published is a high point in their career. Along with the recognition and respect that comes with having your photos appear in print, the publicity they gain does more for their business than any other type of marketing campaign. Unfortunately, most photographers don't know to go about marketing their work to these national publications and end up wasting thousands of dollars on bridal shows and expensive ad campaigns that bring nothing to the table and often do more harm than good.
According to PhotoMint.com CEO Lara White, wedding photographers need to understand the different marketing methods they can use. Using innovative online publicity opportunities including blogs and social media, combined with traditional offline marketing techniques, can benefit any photography business. But most photographers need to learn how to strategically implement those methods to promote their studios without breaking the bank. And one of the key marketing methods, says White, is to develop a steady stream of online and offline publicity for the photography studio.
"Right now there is little business and marketing information available to emerging professional photographers to help them understand how to market their businesses and use publicity to their advantage to build their reputation, increase brand awareness and book more clients. In these economic times, it's so important that small business owners arm themselves with a solid marketing plan for their business."
In 2011, White realized that more and more freelancer photographers, work-at-home-moms and other entrepreneurs were entering the field of wedding photography as a means to earn additional income. Instead, within a short period of time, many of them were facing bankruptcy simply because they didn't understand the marketing end of the business. Having already developed her own successful wedding photography business, and with more than 70 publications carrying her work, including The Knot, Get Married and Modern Bride, White decided it was time to step up and do something to start paying it forward.
"I realized that all of these people were excellent photographers but, like so many of today's entrepreneurs, they had never been trained in marketing. They knew that publicity was important but had no idea about how to get their photographs published. I wrote this free guide Get Published: A Guide for Wedding Photographers as a way to give back and mentor new photographers entering the field."
White stresses that emerging and seasoned wedding photographers alike will get results quickly and efficiently by following her marketing strategy. Photographers can visit her site http://www.photomint.com and find helpful information that will teach them how to increase profits, develop a marketing strategy and streamline studio operations to ensure a successful photography business.
PhotoMint launched in 2011 to address the business needs of professional photographers. PhotoMint helps wedding photographers get results quickly and efficiently in all areas of their photography business. We teach photographers at every level how to increase profits, develop a marketing strategy and streamline studio operations to ensure a successful photography business.
# # #