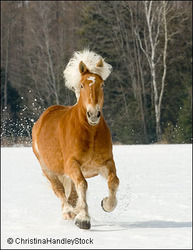 I've been taking photos in the snow all my life
Burnt River, Ontario (PRWEB) January 5, 2009
New online photography course offers digital photography tips for taking great winter snow photos. The popular course is offered by Learn to Take Photos and taught by photographer Christina Handley. The course includes tips for finding subjects, protecting your gear and getting good exposures in the snow.
No one knows more about taking photos in the winter snow than Canadian photographer Christina Handley. She is an expert, living and working on a beef cattle farm in Ontario about two hours north of Toronto. "I've been taking photos in the snow all my life," Handley says, "we get lots!"
Handley is a professional photographer with many credits to her name in horse magazines. Her photos of horses in the snow are popular every winter season and she has thousands. It snows up to 6 months out of the year in Ontario and few photographers have more opportunity or experience shooting in the challenging conditions of snow.
In 2007, she turned her talents to teaching photography. Recently Handley co-founded Learn to Take Photos, an online photography school with Virginia native Laura Cotterman.
The pair have teamed up to offer an Internet based short course in winter snow photography which has become very popular in the first session attracting dozens of students from all over the U.S. and Canada. The winter photography short course includes tips for finding subjects, protecting your gear and getting good exposures in the snow.
"Exposure is the trickiest part of photographing snow scenes," says Handley. "We teach step by step how your camera sees the snow and how to get a correct exposure."
The online photography course consists of a written lesson with lots of examples and a photography assignment. Students upload their photos and receive helpful feedback and advice. The learning environment is supportive, fun and creative. Everyone is encouraged to ask questions, discuss ideas and participate.
Learn to Take Photos offers a free short course each month for new students. With ongoing enrollment you can join anytime. The Winter Snow Photography course will begins Monday Feb 2. New students can use the coupon code SNOWINFEB at checkout and the course is free.
Go to http://www.learntotakephotos.com/winter for the course outline and to join the class.
About Learn To Take Photos:
Learn To Take Photos is an online photography school taught by well known horse photographers Christina Handley and Laura Cotterman. Students learn photography, get to know new people and share ideas in a fun, encouraging and supportive environment. Learn To Take Photos' online photography courses are designed for adult learners and are self-directed, creative and motivating. Students have one-to-one access to an expert photographer.
Contact:
Laura Cotterman, Co-Founder
Learn to Take Photos
877-867-7345
http://www.learntotakephotos.com
###