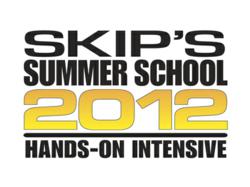 Chicago, Illinois (PRWEB) April 11, 2012
Skip's Summer School, now in its fourth year and the leading summer workshop series for professional photographers, moves to Chicago, August 5-8.
"Year after year attendees have requested more hands-on programming and a more centralized location. So, we're moving the program to the Chicago area and into the Doubeltree Hilton in Oakbrook, Illinois. Every attendee will have their choice of two of seven outstanding instructors to shoot with in an all day hands-on session," commented program founder, Skip Cohen.
But the support for the professional photographic community doesn't end there. As part of this year's program Cohen wanted to reach out and start helping attendees immediately. Each attendee, when they register, gets a free website consulting session concentrating primarily on their "about" section and galleries.
"Your website is your storefront, but like so many companies online, photographers haven't paid enough attention to their own sites. They haven't taken the time to really think through the importance of their online presence. I've seen some outstanding work from some great photographers, but their message has simply been lost in a variety of website challenges," said Skip.
This year's Summer School offers attendees seven platform programs, two days of hands-on teaching or a two day flim-making program, two catered lunch programs, a website review and the opportunity to network with some of the best known photographic instructors and companies in professional photography. Program topics for the platform programs will include business, marketing, publishing, networking, customer service and a new addition this year, a workshop panel discussion from three of the best known couples in photography on the topic of working with your spouse. A special full registration of just $75 for Summer School attendees to WPPI2013 adds even more to the incredible value of this summer program.
"We're excited to have the senior management team from Resource magazine joining us this year for a special lunch program on publishing in photography. This year's Summer School featured video was produced by RETV's, Adam Sherwin, and is on YouTube as well as on the program site.
Participating sponsors are all top shelf with Adorama, Album Epoca, Cameras for Kids Foundation, Ghostrighters, Marathon Press, Nik Software, Photofocus, Profoto, Resource Magazine, RETV, Smug Mug, SongFreedom, Tamron,The F.I.L.M. Project, WHCC, WPPI and X-rite.
Registration for Summer School is live at Summer School Registration.
About Summer School
Founded in 2009, Summer School is part of Marketing Essentials International. It was created by photo industry executive and author, Skip Cohen as a total immersion program packing three days of great programming into one location and a single trip. The program is in its fourth summer, moving from Las Vegas in past years to Chicago. Interested in finding out more about Skip's Summer School? Visit http://www.mei500.com for the complete description of programs and events this August.
For more information contact Skip Cohen at skip(at)mei500(dot)com.