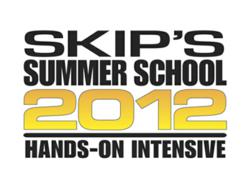 Bradenton, FL (PRWEB) July 10, 2012
Celebrating its fourth summer school program, Skip's Summer School is about to set a new standard in imaging education.
"The top requests following last year were for more hands-on instruction and a more centralized U.S. location. So, we're bringing in seven of the finest photography instructors in the industry for hands-on teaching. We've got Cinestories for a total immersion two day film-making workshop. There are eleven other instructors involved in some incredible platform programming on customer service, publishing, branding, creativity, business and even a couples panel on the challenges of working with your spouse," commented program founder, Skip Cohen.
Also added to this year's program are two catered lunch time panel discussions. This year's stellar panel of sponsors will discuss ways to build an effective network and the founding staff of Resource Magazine, will be sharing ideas on how photographers can get their work published and build stronger editorial images.
This year's added benefits for attendees are extensive. It all starts with a 60-90 minute website review session that includes marketing ideas as well as a review of gallery images and a thorough discussion of a stronger more effective presence and better brand building.
"Every year attendees wait for summer school and look forward to learning something new. I wanted to start things off earlier and give them things to think about long before August. You can't be in business without a website today, but so often the real building blocks for an effective website have been lost in the shuffle and the rush to establish an online presence," said Cohen.
Also Included in the benefits is a $75 full-registration fee for next year's WPPI convention (a savings of approximately $200 - $300) and special discounts and products from Nik Software, Profoto, SmugMugPro, Album Epoca, Marathon Press, SongFreedom, BayPhoto Lab, WHCC, Adorama and Tamron.
"This is all about education and supporting the professional photographic community. SmugMug Pro is even working on an exclusive webinar ten days after summer school to help attendees maximize their online effectiveness with SmugMug's tools!" Cohen went on to comment.
This year's Skip's Summer School will be held at the Oakbrook Hilton, just ten miles from Ohare Airport outside Chicago. Special programming starts with a mini-trade show on Sunday, August 5 and continues through noon on August 8.
About Skip's Summer School
Photo industry executive, Skip Cohen, wanted to find a way to provide aspiring and professional photographers with a way to "recharge their battery" mid year. The Summer School project was the first in a series of special programs designed to help elevate the skill set of aspiring and professional photographers.
Other programs have included the Akron Photo Series, various book projects, corporate consulting within the photographic industry and two major blogs, SkipsPhotoNetwork and PhotoResourceHub Every program to date has been about helping photographers improve their skill set and focus on better control over their marketing and business efforts.
For more information about Skip's Summer School or Marketing Essentials International, visit http://www.mei500.com or contact skip at skip(at)mei500(dot)com.